Salvador Cabañas Shooting Suspect Is Caught in Mexico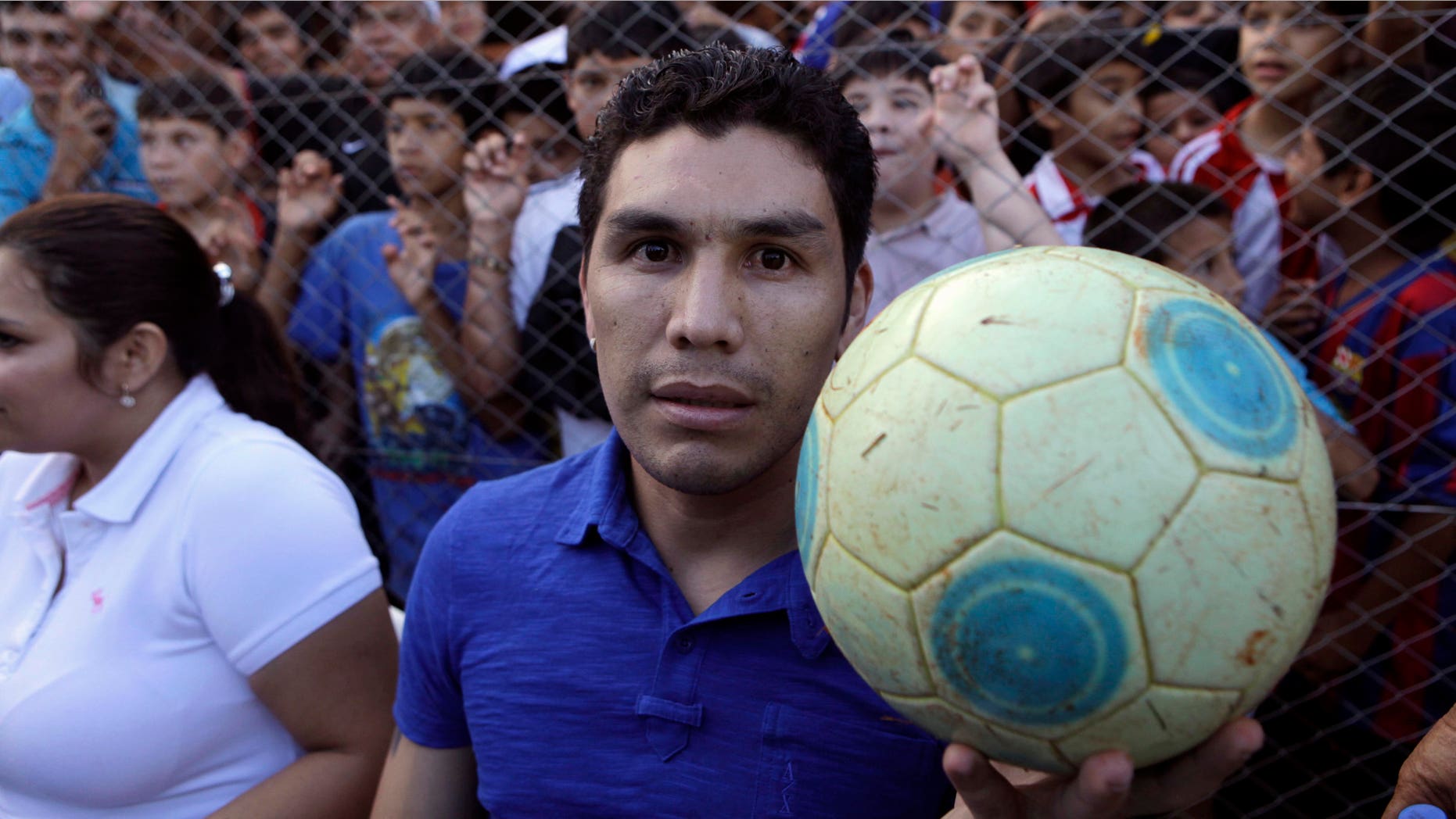 It was a case tailor-made for tabloid headlines. A popular and talented soccer player -- Salvador Cabañas, star forward for Mexico's Club América and the Paraguayan national team -- was shot in the head in the bathroom of a popular downtown nightspot. The high-profile lead suspect slips through police hands and disappears.
On Tuesday, the Mexico City police finally got their man.
José Jorge Balderas, who is known by his initials "J.J." and allegedly has ties with Mexico's drug trade, was arrested in a wealthy neighborhood of Mexico City, Federal Public Safety Department Anti-Drug Division chief Ramon Eduardo Pequeño said in a news conference.
Balderas was exhibited at the news conference with his hair slicked back and his dark beard trimmed. He stood with his hands crossed as two heavily armed masked members of the security force grasped his shoulders.
Pequeño said Balderas denied shooting Cabañas and instead blamed Francisco José Barreto García, who was arrested last year in the case.
Balderas "said the incident happened when he entered the bathroom and encountered Salvador Cabañas and asked for permission to use the toilet," according to Pequeño.
He added that the suspect told investigators the football player "reacted in an aggressive manner, both verbally and physically." Right then García, who oversaw Balderas' security at the time, entered and shot Cabanas in the head at close range, Balderas allegedly said.
Witnesses have said Cabañas and Balderas got into an argument when Balderas questioned the Paraguayan's performances for his club. Cabañas was shot in the head at close range.
Cabañas miraculously survived the Jan. 25 shooting but is not expected to return to football.
His shooting months before the 2010 World Cup in South Africa rocked Paraguay's national team, which had expected to field him as a starring player.
Balderas was arrested along with six other suspected members of a drug ring that authorities say J.J. established after going into hiding following the Cabañas shooting. The ring distributed cocaine and weapons from its base in the Mexico City suburb of Huixquilucan, Pequeño said. Among those arrested was a woman identified as a professional model and Balderas' lover.
The group was arrested carrying false IDs, along with what appeared to be bags of cocaine, guns and ammo, Pequeño said.
Pequeño said that Balderas admitted he knew the top leaders of the Beltran Leyva cartel and would attend parties with them.
Authorities had long suspected that Balderas was an associate of purported drug lord Edgar Valdez Villarreal, known as "La Barbie," who was arrested last year.
According to a transcript released by Mexican authorities, Valdez told investigators he helped Balderas hide on the outskirts of Mexico City for about three months following the shooting.
In Paraguay, Cabañas' brother-in-law, Amancio Rojas, said Balderas' arrest could "help us learn the truth behind why this tragedy happened."
"Salvador's family members hope the presumed aggressor says why he attacked him," said Rojas, who is married to Cabañas' sister.
Cabañas declined to talk to reporters on the recommendation of his doctors.
Based on reporting by the Associated Press.
Follow us on twitter.com/foxnewslatino
Like us at facebook.com/foxnewslatino