Sabres look to bounce back against Rangers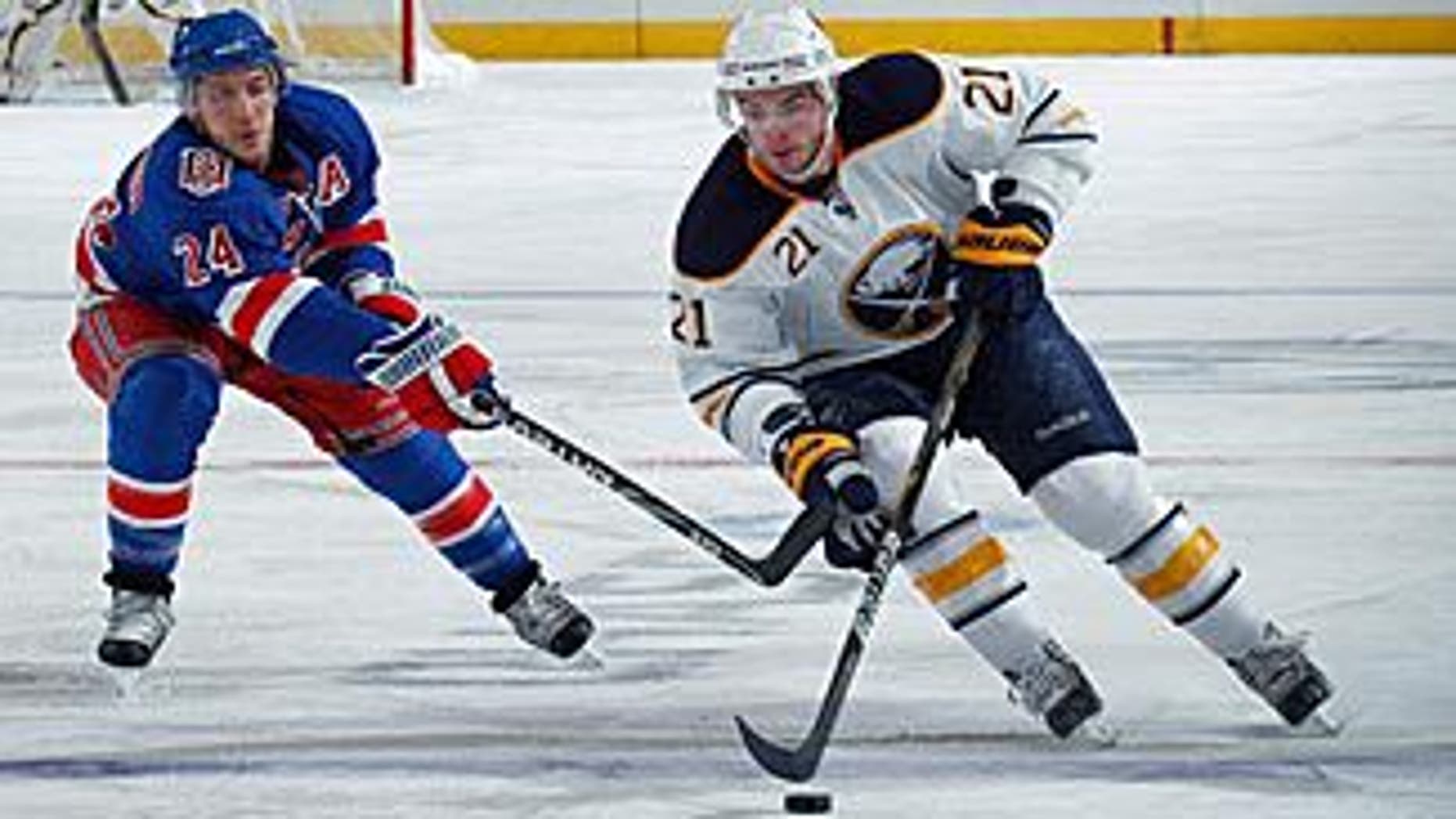 BUFFALO – Just two points separate the Buffalo Sabres, currently eighth in the Eastern Conference, and the seventh-place New York Rangers in a tight race for the final postseason positions.
When the two teams meet Wednesday night, the Sabres will be looking to bounce back from a disappointing 4-3 loss to division rival Toronto.
"We gave up some pretty good opportunities and got off to a tough start and made some pretty big mistakes," Sabres coach Lindy Ruff said.
Added Nathan Gerbe: "We have to put last night's game behind us."
The Sabres ability to move on will be tested, as they face a hot Rangers team that has points in its last seven games. Star goaltender Henrik Lundqvist has been the major reason, with two 1-0 victories in his last three games.
"Hank has made key saves at key times," Rangers coach John Tortorella said. "We have a young team that has really (made it easy for) our young guys to (contribute)."
"We have to understand the playoff race but put our best foot forward and just play hockey," said rookie Derek Stepan, one of the Rangers' young players making an impact. His 41 points ranks him sixth among NHL rookies this season. "(Our coach) has been really good with younger guys preparing our mindset going into games."
Goaltender Ryan Miller is expected to get the start for the Sabres despite playing Tuesday night in Toronto. The team will be without Jochen Hecht due to an upper-body injury. Hecht was hurt Tuesday against the Maple Leafs and the team is waiting for his injury to be evaluated.
As a result, the Sabres will look for additional offense from players like Gerbe, who has 13 goals in the last 31 games after scoring just one in the first half of the year.
"I feel good about the second half of the season," Gerbe said. "Obviously (my) work ethic and speed has been there and it is what I will bring tonight."
His second-half scoring has helped the Sabres put together a 23-11-5 run since January 1. The Sabres have done it without Derek Roy, their leading scorer when he was injured Dec. 23 with a torn quad tendon.
Roy skated with the Sabres today, and could be back this postseason if the team makes it past the first round.
"It is a relief to start skating and get on the ice and to see the guys," Roy said. "I am ahead of schedule."
The Carolina Hurricanes and the Toronto Maple Leafs will be watching this matchup closely, with Carolina three points and Toronto five points behind Buffalo for the eighth and final playoff spot in the East.
Notes: The Rangers' Derek Boogaard has resumed skating ... The Sabres' Mike Grier will miss the game due to a knee injury and Marc-Andre Gragnani is expected to play.