Ryu returns for Dodgers as they host Padres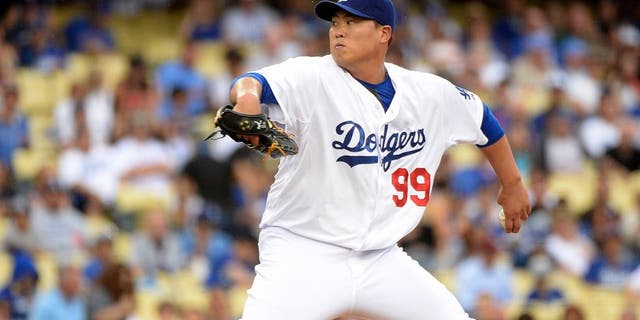 NEWYou can now listen to Fox News articles!
LOS ANGELES -- For the second time in five days, one of the Los Angeles Dodgers' veteran starting pitchers will return to the rotation after spending more than a year recuperating from surgery.
Left-hander Hyun-Jin Ryu will make his first start in nearly two years Thursday night when the Dodgers and the San Diego Padres begin a four-game series at Dodger Stadium.
"He thought he could help us win a ballgame on Thursday," Los Angeles manager Dave Roberts said. "He was open to whatever we felt. But we wanted to have the conversation with him about his comfort level and how he felt physically and mentally. He was really certain and excited about making a start with us."
Ryu had not pitched since Oct. 6, 2014, when he held the St. Louis Cardinals to one run in six innings during the third game of the National League Division Series. During spring training the following year, Ryu felt shoulder pain after two starts. Doctors diagnosed him with a torn labrum, and he had surgery in May 2015.
The 29-year-old Korean made a total of eight rehab starts this year for Class A Rancho Cucamonga and Triple-A Oklahoma City despite having his program interrupted twice: once in April because of a strained groin and again in May when his shoulder continued to bother him.
In his final rehab outing, Friday for Rancho Cucamonga, Ryu allowed two runs on five hits in six innings and struck out three while issuing no walks. He threw 84 pitches and averaged 86 mph on his fastball, which reached 90 mph.
"What I have accomplished as far as my rehab goals, gaining all my pitches in quite a few outings, I think I'm pretty much ready to go," Ryu said through an interpreter.
Ryu rejoins a Dodgers rotation that just got back right-hander Brandon McCarthy, who underwent Tommy John surgery in April 2015. McCarthy conceded just two hits and one walk while amassing eight strikeouts in five shutout innings to earn a 4-1 victory Sunday over the Colorado Rockies.
Ryu's arrival, combined with McCarthy's, comes at a pivotal juncture. The Dodgers are trying to erode the San Francisco Giants' lead in the National League West with three starting pitchers still on the disabled list, including ace Clayton Kershaw.
Before missing all of last year, Ryu compiled a 28-15 record and a 3.17 ERA in two seasons with the Dodgers.
Opposing Ryu will be left-hander Drew Pomeranz, the Padres' ace who already established personal records with seven victories and 109 strikeouts and is on pace for career highs in starts and innings pitched.
Pomeranz (7-7) leads San Diego not only in those categories but also owns the lowest ERA (2.65) and the lowest opponents' batting average (.191) among the Padres' starters.
"Everything lines up with top-of-the-rotation guys," San Diego manager Andy Green told MLB.com in describing Pomeranz's statistics. "He's pitched like an ace."
Against the Dodgers, Pomeranz seeks his third consecutive winning decision. He has thrown three successive quality starts. In his past two appearances covering 14 innings, Pomeranz collected 13 strikeouts while permitting only one run, one walk and eight hits.
"I feel like I have four solid pitches that I've used these last two times out," Pomeranz told MLB.com. "I've been pretty efficient, pretty effective with everything. Fastball, cutter, curveball, everything's coming together now."
The Padres arrive at Dodger Stadium after winning two of three in Arizona against the Diamondbacks, including a 13-6 victory Wednesday. The Dodgers just dropped two of three at home to the Baltimore Orioles, including a 6-4, 14-inning setback in the series finale.