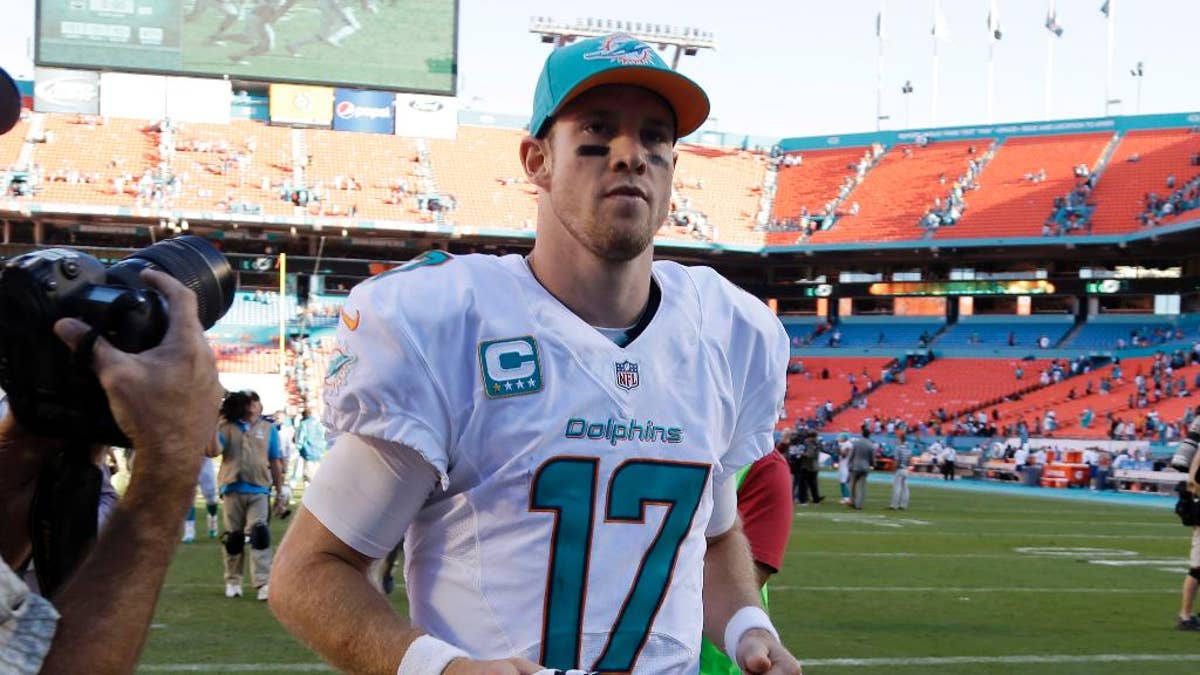 DAVIE, Fla. – The two Pro Football Hall of Fame quarterbacks stood on the sideline at midfield Wednesday, watching Ryan Tannehill throw passes in practice.
When Tannehill fired yet another completion, Bob Griese turned and said something to Dan Marino, who nodded. Forty games into Tannehill's career, he's making a better impression.
Over the past five games, Tannehill has a passer rating of 104.1 while completing 68 percent of his attempts and averaging 8.2 yards per attempt. He has led the Dolphins (5-3) to three consecutive victories, and they're above .500 at midseason for the first time since 2003.
"He's the reason we're playing well," guard Mike Pouncey said.
"Ryan is doing a great job for the last four or five weeks," receiver Mike Wallace said. "Hopefully he can keep it up. Everybody knows he has the potential, man."
Tannehill has received informal mentoring from Marino, who was hired in August as a special adviser to the team owner, and has heard words of encouragement from Griese, a broadcast analyst for the team. But the biggest reason for Tannehill's recent improvement might be his increasing familiarity with the offense installed by first-year coordinator Bill Lazor.
"There is a comfort level," Lazor said, "in the fact that all the different options that occur on some of these pass plays, he's just had a chance to see them, so he isn't surprised when they happen."
As a result, Tannehill said it's easier for him to review his own work lately. He converted from receiver to quarterback as a junior at Texas A&M and is still learning the position.
"I'm not where I want to be at by any stretch, but I'm progressing," he said. "I'm seeing improvements. I see better throws and see the ball coming out quicker."
Lazor's game plans lately have taken advantage of Tannehill's athleticism by mixing rollouts, read options and short passes to a diverse cast of receivers. He struggles with his accuracy on deep passes, so Lazor has reduced the number of long throws in recent games.
The Dolphins play Sunday at Detroit. Lions coach Jim Caldwell said his team will be braced for a quarterback who's on a roll — and can run.
"I had a chance to watch him as a college player and found him to be an unusual cat, one of those guys who has a real good presence, who's adept at running and throwing," Caldwell said. "He keeps his eyes downfield and can hurt you on the flank, which he has done time and time again."
Tannehill is averaging 6.8 yards per pass, which ranks 28th in the league, but 7.9 per rush. He has rushed for more yards this season (245) than Marino totaled in his career (87).
Thanks to a much-improved offensive line, Tannehill is also benefiting from the best pass protection of his three-year career. He has been only sacked 17 times, compared with last year's franchise record 58.
But six weeks ago, there was speculation Tannehill might be on the verge of losing his job. Following a dismal loss to Kansas City, coach Joe Philbin declined to give an embattled Tannehill a public vote of confidence, fanning a brief quarterback controversy.
Tannehill conceded the situation bothered him, and Philbin eventually acknowledged he mishandled the situation and created a locker room distraction. But while Tannehill has since played much better, he repeatedly denied the tempest served as a catalyst.
"I just think the more we play in this offense and the more comfortable I get, and the more the guys around me get comfortable, you see guys making plays all over the field," Tannehill said.
He quashed the talk of a change at quarterback by throwing for 278 yards in a rout of Oakland. He went 25 for 32 in an easy victory at Chicago. And last week he had perhaps his best game yet, throwing for 288 yards and three scores in a 37-0 win over San Diego.
"We got worked over," Chargers linebacker Andre Gachkar said. "Not a lot of quarterbacks in the league can make some of the throws he made."
Marino and Griese might agree; both are fans of Tannehill's work. But a problem could arise if they ever offer him conflicting advice.
"I can't choose between those two," Tannehill said. "They're both Hall of Famers."
___
AP NFL website: www.pro32.ap.org and http://twitter.com/AP_NFL
___
Follow Steven Wine on Twitter: http://twitter.com/Steve_Wine