Ryan Fitzpatrick named AFC Offensive Player of the Week yet again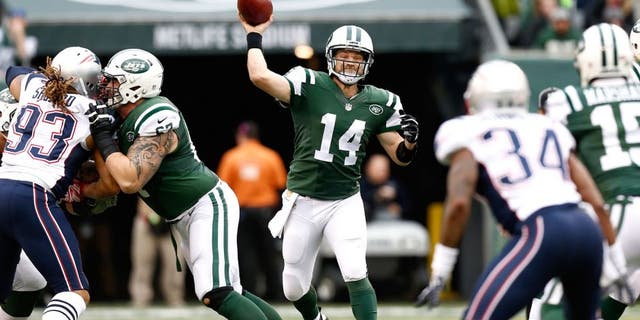 If there's one player who has quietly put his name in the conversation as a potential MVP candidate in recent weeks, it's New York Jets quarterback Ryan Fitzpatrick. Now, that's not to say he should win it or that he will, but his play over the past five weeks has been as stellar as any quarterback in the league. In fact, he's arguably been the best offensive player in the AFC of late.
For the second time in three weeks, Fitzpatrick has been named the AFC Offensive Player of the Week.
Fitzpatrick earned the award for his outstanding performance against the New England Patriots -- a game in which he outplayed Tom Brady. He completed 26-of-41 passes for 296 yards, three touchdowns and zero interceptions. Most importantly, he led the Jets to victory with a game-winning touchdown pass in overtime.
Fitzpatrick took home the award in Week 14, as well, when he threw for 263 yards and three touchdowns against the Tennessee Titans. Wins mean more than awards for any player, of course, but it's a testament to how great he's played of late.
Over the past five weeks, he's tossed 13 touchdowns and just one interception, while averaging 305 yards per game in that span. He won't win the MVP award, but he's a deserving candidate for the way he's played late in the year.