Royals shoot paintball guns at Kimmel, douse Fallon with water in late-night TV visits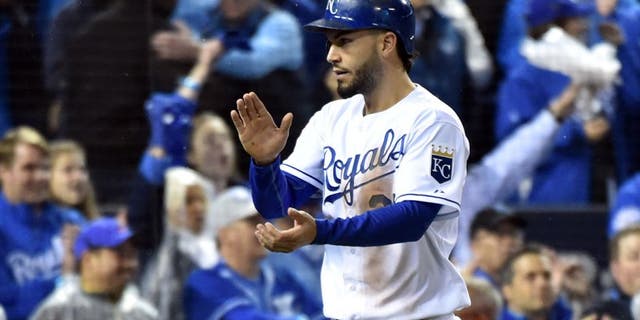 The Kansas City Royals' victory lap continued on Wednesday night, as members of the team visited 'The Tonight Show Starring Jimmy Fallon' and 'Jimmy Kimmel Live' for some amusing segments pertaining to their recent World Series win.
If you recall, prior to the World Series being decided 'Modern Family' actor Eric Stonestreet made a bet with Jimmy Kimmel regarding which team would win - and when the Royals won, Stonestreet emerged the victor in the wager. As a result, Kimmel was to be shot with paintball guns. On Wednesday, Stonestreet was joined by Mike Moustakas, Drew Butera and Jeremy Guthrie for the stunt, which turned out marvelously:
Meanwhile, over at 'The Tonight Show' Eric Hosmer and Salvador Perez were the guests of honor. They were subsequently treated to a 'performance' by someone pretending to be '1986 Brett Saberhagen', who recreated Saberhagen's infamous rap/dance sequence...until the real Saberhagen showed up:
And just for good measure, Perez doused Fallon with a bucket of ice water during the show's final moments...as after all, Perez is known for his celebratory dunkings:
All in a day's work for the World Champions.