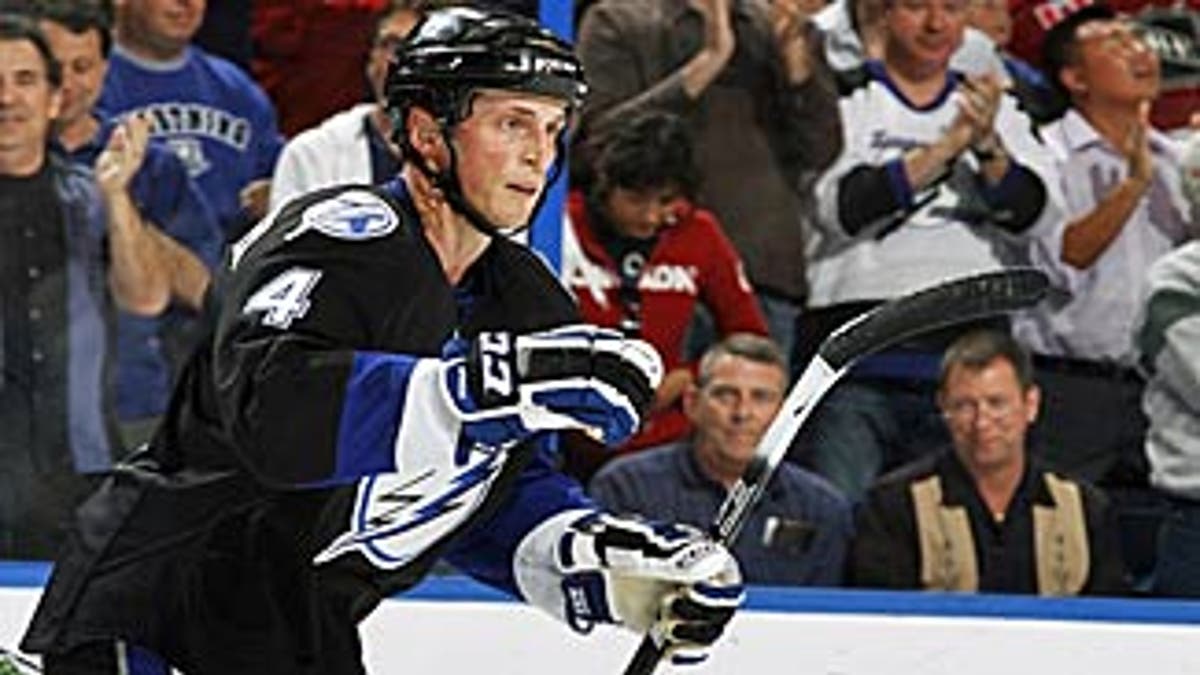 TAMPA BAY -- Playoff hockey has returned to the west central coast of the Sunshine State.
The fact is, it's been a few years -- four in fact -- since the Tampa Bay Lightning last hosted a Stanley Cup Playoff contest. That all changes Monday when the city welcomes their hometown heroes here at St. Pete Times Forum for Game 3 of the Eastern Conference quarterfinal round against the Pittsburgh Penguins.
It's going to be loud -- the first 15,000 Lightning fans entering the building will receive a Lightning-logoed rally drum. And in case fans miss an opportunity for the drum on Monday, the first 15,000 fans entering the building on Wednesday for Game 4 will receive a pair of Lightning-logoed thundersticks.
With all the excitement in and around the arena, will the Lightning players be able to channel that emotion and use it to their advantage?
Lightning coach Guy Boucher realizes that several players probably had little sleep thinking about the atmosphere Monday evening and a chance at taking a 2-games-to-1 lead in this best-of-7 set.
"You don't want to play your game before the game," Boucher said. "Thing is, you can't deny the emotion. You can't think you can go in there and be calm and just focus on the task … that's a dream. When you step on the ice, you hear the crowd. The atmosphere in there is going to help lift everyone, but the main thing is we're not going to win this game prior to faceoff or even in the first 10 minutes. It's going to be a 60-70 minute game; whatever it takes to win."
The last time the Lightning hosted a playoff game was April 22, 2007 -- the finale of a six-game series loss to the New Jersey Devils. The Lightning last celebrated a win before their rabid fans six days earlier in a 3-2 victory over the Devils.
"It should be rocking tonight, but at the same time, it's going to be emotional," forward Nate Thompson said. "We have to keep our emotions in check. We can't get too ahead of ourselves, we have to stay calm and poised because it's going to be loud in there. It's going to be fun."
It might be loud, but that doesn't mean veteran Tampa Bay goalie Dwayne Roloson will be tuned in. Roloson sports a 1.51 goals-against average and .960 save percentage in the series.
"For us, it's controlling your emotions and playing internally," Roloson said. "Play for yourself and for your teammates and try to take the noise out of your head. You have to basically focus on what you have to do. For me, I just focus on the puck and, most times, don't even hear the crowd. I can't listen to it … there's too many other things going on. It's tough to pay attention to the crowd noise."
Since scoring a 2-1 nail-biter over Calgary in Game 7 of the 2004 Stanley Cup Final at St. Pete Times Forum, Tampa Bay has actually gone 1-4 over its last five home playoff games -- certainly not how home-ice advantage was designed to work.
"Channeling that emotion is the key right from the get-go," Lightning center Steven Stamkos said. "With a lot of guys playing in their first NHL playoffs, that's important. We came out in Game 1 (in Pittsburgh) and maybe got away from our game a little bit with the nerves and being anxious. I think we learned a lot from that game and applied it to Game 2, where we came out strong and were patient and waited for opportunities. We know Game 3 is going to be exciting at home, but we need to stick to our structure."
Simon Gagne, who leads all Tampa forwards with 3 points, feels players can certainly benefit from that energy within the building.
"Some players need that excitement and motivation," he said. "I think everyone is very motivated this time of the year, but if you get the crowd helping you, that's great. You don't want to get too emotional and go out there and get running around and out of position. You just follow the plan and use (the energy) the right way -- not too much, not too low."
The Lightning tied a franchise record with 25 home wins in the regular season, matching Pittsburgh and Washington for the most in the Eastern Conference. The Penguins, meanwhile, led the League in road wins during the regular season with a franchise-record 24 away from Consol Energy Center. They are also an impressive 6-1 in their last seven Game 3 road matches.
"You hear in hockey how playing a road game means keeping it simple or playing differently," Penguins coach Dan Bylsma said. "But our focus is not that at all. We try to play the same way regardless of the venue or score in the game, and that's something we've tried to maintain and it's carried us pretty well through tough road games and difficult buildings. We expect a loud crowd here (Monday), but we're comfortable with our team."
Follow Mike Morreale on Twitter at: @mike_morreale