Rousey-Holm moved up to UFC 193 in Australia; Lawler-Condit postponed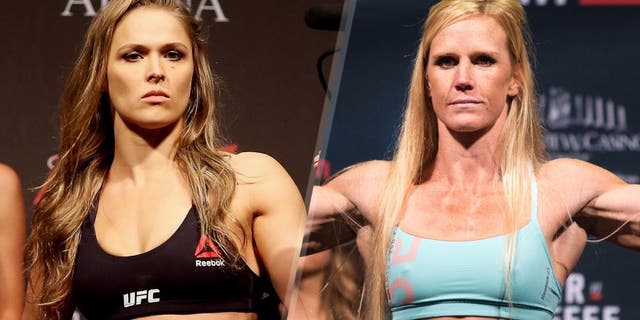 NEWYou can now listen to Fox News articles!
The UFC is moving up Ronda Rousey's next fight to Nov. 14 at UFC 193 in Melbourne, Australia, and hopes to break its attendance record in the process.
Rousey's fight vs. Holly Holm originally was scheduled as the main event for UFC 195 on Jan. 2 in Las Vegas. But UFC president Dana White announced that with a chance to shatter the attendance record, the promotion decided to move Rousey's fight to the Melbourne card instead when the welterweight title fight between champion Robbie Lawler and Carlos Condit was postponed due to a thumb injury suffered by Lawler.
"She will break the all-time attendance record for the sport of mixed martial arts," White said on ESPN on Friday night. "Obviously Ronda Rousey was huge for us down in Brazil, she was well received there, it was just a phenomenal event. It did very well on pay-per-view here in the United States. She's obviously a huge superstar for us and Australia's an important market for us so we're going to bring her out there.
"Our first real big stadium show. We know that she'll break the record."
UFC 193 will take place at Etihad Stadium in Melbourne; the card already was touted as one of the biggest of all time. The stadium holds more than 56,000 fans at capacity but the UFC card may bring in bigger attendance with additional seating on the normal playing field area where the Octagon will sit.
The current record for attendance for the UFC is 55,724 at UFC 129 in a 2011 show headlined by Georges St-Pierre against Jake Shields when the promotion landed in Toronto at the Rogers Centre.
Rousey has become one of the world's most prominent female athletes while winning her past three bouts in a combined 64 seconds. She stopped Bethe Correia in 34 seconds on Aug. 1. Now Rousey (12-0) will go after her seventh title defense against Holm (9-0), the boxing champion from New Mexico.
UFC officials told FOX Sports that a new main event will be announced for UFC 195 in the coming weeks.
The Associated Press contributed to this report.