Rookie Russell: 'There's a lot of spoiled Lakers fans'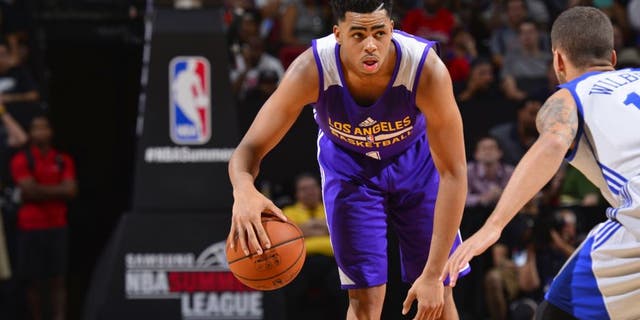 Los Angeles Lakers fans were outraged last week when D'Angelo Russel, their team's No. 2 overall pick in the 2015 NBA Draft, tweeted that Tracy McGrady may have been the greatest player of all time.
"Honestly Tracy McGrady might have been the GOAT!" Russell wrote in a tweet that has since been deleted.
By saying McGrady may have been the best NBA player ever, Russell was essentially saying McGrady is better than D'Angelo's new teammate Kobe Bryant. If you know how much Lakers fans worship Kobe, you're not surprised by their reaction.
Russell already lost a few points with the McGrady tweet, and he may not win them back by calling Lakers fans "spoiled." But that's exactly what he said when Mark Medina of the Los Angeles Daily News asked him about the tweet.
"There's a lot of spoiled Lakers fans. I wasn't downgrading Kobe at all," Russell said over the weekend. "I was just watching a highlight tape of Tracy McGrady and I got excited. I tweeted and the whole state of California went crazy."
Are Lakers fans spoiled? Many of them, yes. That's what happens when a team dominates a sport for an extended period of time. Still, they probably won't like hearing it from one of their newest players.
Russell's tweet was nowhere near as bad as the one a different Lakers rookie sent several years ago, but Russell can't expect fans to be rational. That's asking way too much.
H/T Pro Basketball Talk
Photo: Stephen R. Sylvanie-USA TODAY Sports
More from Larry Brown Sports: