Ronda Rousey wins ESPY for best female athlete, takes shot at Floyd Mayweather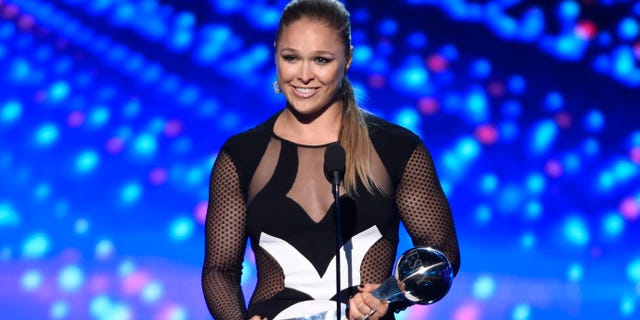 Undefeated UFC fighter Ronda Rousey extended her reign Wednesday night when she won the ESPY Award for best female athlete for a second year in a row.
The MMA fighter beat out recent Wimbledon champ Serena Williams, skier Lindsey Vonn and University of Connecticut basketball star Breanna Stewart.
Presenter J.J. Watt of the Houston Texans joked, "Please don't beat me up" before announcing Rousey's name.
"I want to thank all the women athletes who are here for being the change we want to see in the world," she said. "I'm living such a lucky and blessed life, and I'm trying so hard to deserve it."
Ahead of the broadcast portion of the show, Rousey was also presented with the best fighter trophy while on the red carpet. She took a moment to relish both her win and the fact that she beat out the also undefeated Floyd Mayweather.
Referring to Mayweather's history of battery and domestic abuse charges, Rousey said, "I wonder how Floyd feels being beat by a woman for once. I'd like to see you pretend to not know who I am now."
This is not the first time Rousey has taken a swing at Mayweather over his treatment of women. In May, during a press junket for the new "Entourage" movie, she was asked about a hypothetical match against him.
"Well, I will never say that I can't beat anyone," Rousey said. "I don't think me and him would ever fight unless we ended up dating."
Like us on Facebook
Follow us on Twitter & Instagram