Ronda Rousey says she would only fight Floyd Mayweather if they were dating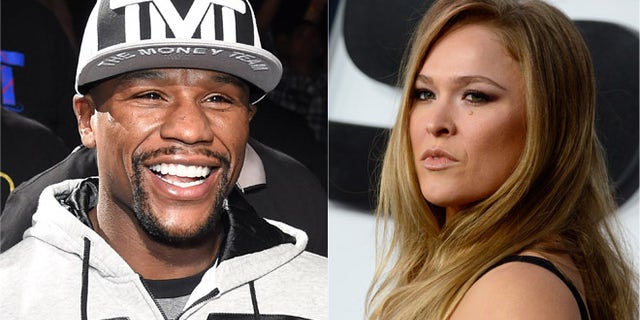 UFC star Ronda Rousey threw some serious shade at Floyd Mayweather, saying she would only fight the undefeated boxer out of the ring.
During a press junket for the new "Entourage" movie, Access Hollywood's Stephanie Bauer asked the MMA champ about a hypothetical match with Mayweather and Rousey did not hesitate to take a jab at him.
"Mayweather is undefeated. You're undefeated … Could you take him down?" Bauer asked Rousey.
"Well, I will never say that I can't beat anyone," she said. "I don't think me and him would ever fight unless we ended up dating."
Ouch! Mayweather's past domestic abuse convictions have been widely reported.
Rousey, who is single, added that everyone expects her to want to date "giant, burly guys," but it couldn't be further from the truth.
"I don't come home from the gym and feel like super rough… I want to be a girl when I come home," she said. "I want to be taken care of when I get home."
She added with a smile: "Right now, I'm waiting for a tall, dark pediatrician or something, you know. Something like that."
Like us on Facebook
Follow us on Twitter & Instagram