Ronda Rousey offers Kobe Bryant advice on his potential retirement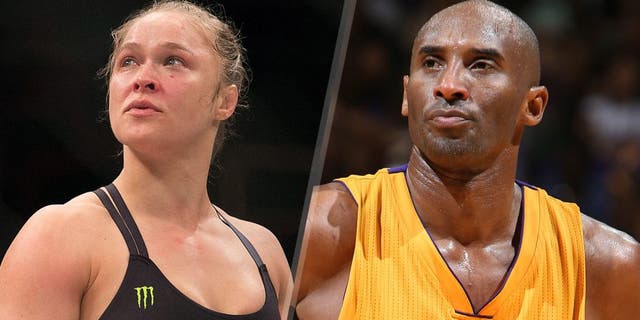 NEWYou can now listen to Fox News articles!
As Kobe Bryant embarks on his 20th NBA season, questions are swirling whether this will be his last playing basketball for the Los Angeles Lakers as retirement seems to be a serious option.
UFC bantamweight champion Ronda Rousey is still at the peak of her career, but she's often asked about retirement because of her dominance over the women's division, not to mention her new career as an actress in Hollywood with several major roles coming up in the next two years.
Rousey offered her opinion on Bryant's decision during her appearance on ESPN "SportsCenter" on Wednesday and said that if the NBA star is beginning to question his future, the writing is probably already on the wall.
"When you're wondering whether or not you should play, that's kind of the time you should think about stepping away," Rousey said.
Bryant is a 17-time All-Star and five-time world champion, but over the past few years injuries have started to rob him of more and more time on the court, and he knows that there's far less time in front of him than behind.
Bryant just opened training camp with the Lakers but hasn't played more than 40 games in a season in each of the past two seasons.
"I don't know what will be the decisive factor," Bryant said about his future when speaking with reporters recently.
"How do we know when it's time? Derek Jeter, Michael Jordan, it was different for all of them. Will I wake up one morning and say 'That's it'? Is it a gradual thing?"
Rousey has stated that she will look at retirement at some point into her early 30's, but at 28, there's still plenty of time left before she even approaches that subject.
Bryant is in a much different situation as he turned 37 in August while also approaching the final year of his contract with the Lakers where he will make $25 million for the 2015-2016 season.
Injuries and money aside, Rousey said it ultimately comes down for the passion to play the game. Right now, she's in her prime so every day she wakes up and thinks about fighting it gets her blood pumping.
On the day that no longer happens, Rousey will know it's time to think about hanging up her gloves the same way Bryant might want to lace up his shoes for the last time.
"Every single time I pull up to the gym, I park and I run from my car in the door of the gym because I'm so excited to be there," Rousey said.
"If you're wondering whether or not you should be there, it's getting to be about that time."