Ronda Rousey KOs retirement rumors – Holm rematch will happen 'later in the year'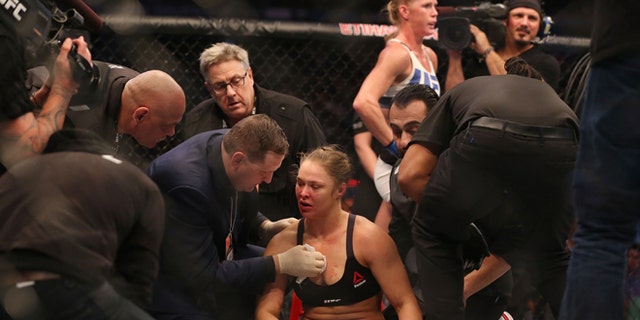 Former UFC women's bantamweight champ Ronda Rousey shrugged off suggestions that she will be retiring from the octagon rather than have a rematch with the woman who took her crown, Holly Holm.
Asked by TMZ if the rematch – which was originally set for UFC 200 on July 9 in Las Vegas – will take place, the fighter said, "Of course!" She added that it would be "sometime later in the year."
UFC president Dana White announced last week that Rousey pulled out of a scheduled fight against Holm at in order to concentrate on shooting the remake of the Patrick Swayze movie, "Road House."
"The filming of the movie got pushed back," White told Yahoo Sports. "She could do both, but why should she? The filming is in a time frame where she'd finish before [UFC] 200, but it would be cutting it too close."
Since then, there has been much speculation in social media as to whether or not Rousey would retire from fighting in order to focus on her Hollywood commitments. On top of "Road House," in which she will play the Swayze role, she is reportedly starring in a Paramount production based on her autobiography, "My Fight/Your Fight."
Most recently, Universal announced that she would star alongside Tina Fey in a comedy called, "Do Nothing Bitches," a phrase Rousey filed for trademark protection after using it in her "Embedded" reality TV show last summer to refer to "the kind of chick that just tries to be pretty and be taken care of by somebody else."
Rousey is also hosting "Saturday Night Live" this Saturday, Jan. 23.
Speaking on-camera to TMZ over the weekend, the fighter, who is of Venezuelan descent, said that the scheduling of the rematch isn't entirely in her control.
"It's a decision we're all going to make together," she said referring to the UFC and Holm's camp. "I'm waiting to hear what [date] options they're going to give me."
Like us on Facebook
Follow us on Twitter & Instagram