Ronda Rousey dedicates fight at UFC 190 to her namesake 'Rowdy' Roddy Piper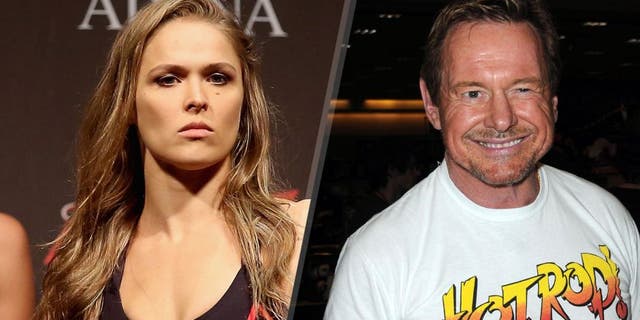 Ronda Rousey was already fighting Bethe Correia at UFC 190 with a purpose, but now she's dedicating her performance to the man who inspired her nickname.
Professional wrestling icon "Rowdy" Roddy Piper died at the age of 61 on Thursday night, and it was his name that was eventually bestowed upon Rousey before she became a force in mixed martial arts.
Piper got his start in the wrestling business through trainer and coach Gene LeBell in the 1970s, and years later LeBell became a mentor to Rousey as well as she was rising up the ranks in judo.
When Rousey decided she wanted to become a professional fighter, LeBell called his old friend and asked permission for the judo prodigy to use his nickname inside the cage. Piper couldn't have been prouder to hand down the nickname from one rowdy wrecking machine to another.
"Ronda and Gene called me. She was so, so excited and so beautiful, saying, 'Would you mind? I'll make you proud, and I'm giving it everything you got.' And I said, "You go, gal. You go!" Piper said in 2014.
"Somebody asked me, 'What would you think if 'Rowdy' Ronda Rousey would become the face of the UFC?' I said I think it would be great. I think it would be a really great thing."
Following the news of his passing, Rousey took to her Instagram page to pay homage to her favorite professional wrestler while dedicating her performance against Correia on Saturday night to his memory.
"Thank you for the name. And so much more," Rousey wrote. "Will do it justice and do you proud tomorrow. This one's for you Roddy.
Rousey was already motivated more than ever to finish Correia after intense trash talk escalated to the point where things got personal, but with this fight now serving as a tribute to her friend and namesake, this fight is bigger to the UFC women's bantamweight champion than anyone could imagine.