Romero, Gastelum and Alves suspended by New York Commission after UFC 205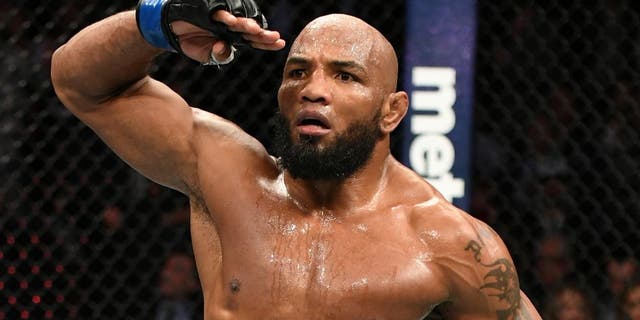 Missing weight, not showing up to the weigh-ins and jumping over the Octagon to celebrate a victory are frowned upon in New York.
Following a historic night at UFC 205, a trio of competitors from the card face suspensions from the New York State Athletic Commission for varied incidents that took place ahead of the show and during the card at Madison Square Garden.
The New York State Athletic Commission confirmed the suspensions with FOX Sports on Wednesday.
Top ranked middleweight contender Yoel Romero has been suspended 60 days for "exiting the fighting area by jumping over the cage after his bout".
Following a knockout over Chris Weidman that secured his spot as the next fighter in line to compete for the middleweight title, Romero leapt over the Octagon wall and celebrated outside the cage for a few moments before going back inside. That's not allowed according to the New York Commission so Romeor has been suspended for 60 days.
Kelvin Gastelum faced a much stiffer penalty for failing to show up to the weigh-ins on Friday before the fights.
The New York Commission has suspended Gastelum for six months for the infraction after the former "Ultimate Fighter" winner dropped out of his bout with Donald "Cowboy" Cerrone due to a failed weight cut.
Because Gastelum knew he wasn't going to make weight, he informed the UFC and pulled out of the fight, but it appears the New York Commission still wanted him to appear as a contracted and licensed fighter scheduled to compete on the card.
Gastelum and his management team are currently appealing the suspension.
There have been talks that Gastelum may face Tim Kennedy at UFC 206, but obviously the suspension would have to be cleared up first before he could officially take the fight.
Finally, Thiago Alves also faces a three month suspension after he failed to make weight for his bout against Jim Miller at UFC 205.
Alves came in at 162.6 pounds -- 6.6 pounds over the lightweight limit -- and that earned him a suspension from the New York Commission.
In addition to the disciplinary suspensions, the commission also handed down medical suspensions to several fighters, but no one will be forced to sit out more than 60 days except for welterweight fighter Vicente Luque.
Luque was suspended indefinitely following his fight with Belal Muhammad pending clearance by the commission.
Here's the full list of medical suspensions from UFC 205: Alvarez vs. McGregor
Eddie Alvarez was suspended a minimum 30 days pending New York State Athletic Commission clearance
Stephen Thompson was suspended a minimum 30 days pending New York State Athletic Commission clearance
Both Joanna Jedrzejczyk and Karolina Kowalkiewicz were suspended for 30 days
Chris Weidman was suspended a minimum 60 days pending New York State Athletic Commission clearance
Miesha Tate was suspended a minimum 30 days pending New York State Athletic Commission clearance
Michael Johnson was suspended 30 days
Vicente Luque was suspended indefinitely pending New York State Athletic Commission clearance
Bela Muhammad was suspended a minimum 60 days pending New York State Athletic Commission clearance
Jim Miller was suspended a minimum 30 days pending New York State Athletic Commission clearance
Rafael Natal was suspended a minimum 60 days pending New York State Athletic Commission clearance
Liz Carmouche was suspended a minimum 30 days pending New York State Athletic Commission clearance