Romania's Izbasa wins vault gold, USA's Maroney earns silver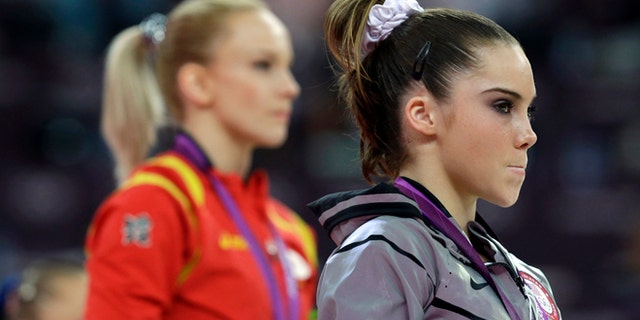 London, England – Romania's Sandra Raluca Izbasa took home gold in the women's vault final on Sunday, while the United States' McKayla Maroney earned silver.
The last gymnast to hit the apparatus, Izbasa struck two solid vaults for a combined score of 15.191. That was 0.108 better than Maroney, the reigning world vaulting champion.
Izbasa earned Romania's fifth gold medal in this event and 300th in Olympic Games history.
"Honestly, the vault final is a war of the nerves and it showed. I just wished I could do two vaults as clean as possible. I didn't think about the scores, I only wished I could do the exercises as I trained for them at home," Izbasa said.
Maroney had the top qualifying score on the vault with a 15.800 mark, well ahead of Izbasa's 15.316. The 16-year-old American also notched a 16.233 score in helping the U.S. win team gold on Tuesday.
A vault specialist, Maroney pulled off the difficult Amanar with only a slight hop on her first attempt, earning a 15.866. However, she fell on the landing of her Yurchenko on the second try, dropping her score to 14.300 for a total of 15.083.
"I'm really disappointed with myself. I fell on the second vault and I don't think I've ever even fallen in warm up here at all. It's a big shock and it's really sad. All I can look forward to is the next competition coming up and I just have to accept that I have a silver medal and that's not too bad," Maroney said.
Though Maroney failed to become the first American to win the gold in the Olympic vault competition, she did join Mary Lou Retton (1984) and Annia Hatch (2004) as silver medalists.
Russian Maria Paseka, the runner up to Izbasa at the 2012 European vault championships, grabbed bronze with a score of 15.050, while 37-year-old German and 2008 Beijing Games vault silver medalist Oksana Chusovitina finished fifth.
Canada's Elisabeth Black was unable to finish the event due to a left ankle injury.