Roethlisberger defends Brady against 'harsh punishment'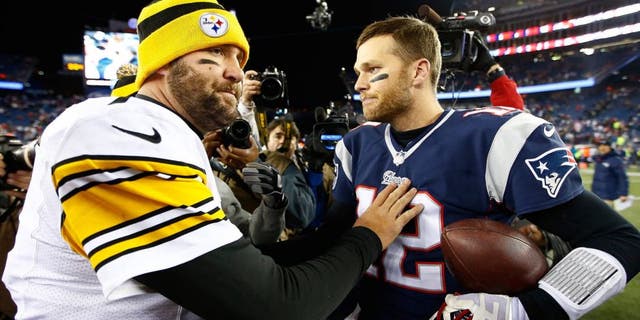 NEWYou can now listen to Fox News articles!
Ben Roethlisberger held himself back Sunday while talking about NFL Commissioner Roger Goodell.
The Pittsburgh Steelers quarterback had Tom Brady's back and said he "wasn't surprised at all" that the Patriots quarterback's four-game suspension was overturned.
"Well it just felt like the league had done something without really -- I wasn't big in looking at all the details," Roethlisberger said in a conference call with the Patriots media. "I guess it was more of a feeling and an inkling of knowing that the commissioner jumped to a pretty harsh punishment."
Roethlisberger had the ultimate praise for Brady and said he "still has a lot of respect" for the Super Bowl XLIX MVP, despite the Deflategate accusations.
"I think he's the best in the business," Roethlisberger said. "If you want to be the best, you've got to beat the best. Of course, one part of you doesn't want him out there because he is the best in the world, but a bigger part of you as a competitor wants him out there because he is the best."
The Steelers QB said he won't prepare his footballs any differently now that protocol has changed regarding how officials will check them before games.
"I have never actually known or cared what my game balls are like," Roethlisberger said. "I don't know what PSI is in there. It really hasn't been my thing from high school to college to the NFL. I have no idea where our equipment guys even have the inflation number at. I am completely clueless to all that stuff. I just play ball."
Roethlisberger has won two Super Bowls, so he knows what to expect out of Patriots fans at Gillette Stadium in the NFL's season opener.
"It's going to be electric," Roethlisberger said. "I anticipate it being -- especially with Tom out there and just everything that's going to happen. It's going to be awesome. It's the way that NFL football should start, and that's why maybe one of the reasons I thought Tom would be out there. I know the NFL doesn't want to start a game without him out there. It'll be -- nerves will be running, jitters will be running for everybody. For young guys, I think it's fun that they get to experience this. Even old guys like myself, I'm sure I'll be nervous."
Of course, U.S. District Court Judge Richard Berman, not the NFL, decided to overturn Brady's suspension. The NFL is appealing Berman's decision, though they didn't seek a stay to keep Brady out Week 1.
More from NESN.com: