Rockies' prized SS prospect Story a 'longshot' to be September call-up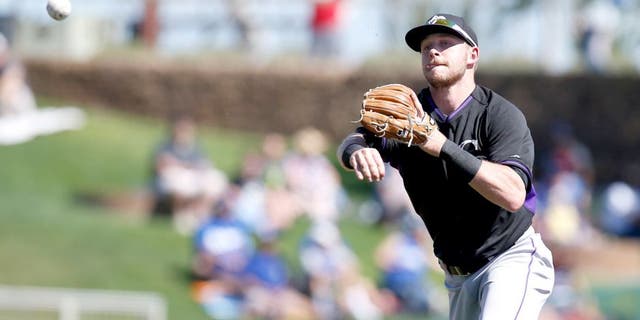 It appears as though Colorado Rockies fans won't be getting a sneak peek at the player who could be their next franchise shortstop this year.
Manager Walt Weiss told reporters Tuesday that it is unlikely that prized shortstop prospect Trevor Story will be amongst those the Rockies call up with expanded rosters in September.
"I don't know if the door is completely shut on that one, but it's probably a longshot," Weiss said of Story's chances, per the Denver Post.
Story is currently ranked the Rockies' No. 11 overall prospect by MLB.com, and second-ranked shortstop prospect behind top overall prospect Brendan Rodgers, who was selected with Colorado's third-overall pick in the 2015 MLB Draft.
While Rodgers, who is only 19 years old, has a few years in the minors before he'll be major-league ready, Story is on the cusp of joining the Rockies' major-league squad.
In 123 games in the minors this season, the 22-year-old Story hit .275/.347/.503 with 18 home runs, 75 RBI, and 21 stolen bases in 24 attempts.
"He's had a very good year," Weiss said of Story. "He's a talented kid. But I'm not sure we'll get a look at him this month."
While the Rockies currently have a high-profile shortstop starting on their major-league club in Jose Reyes, it's likely that they'll make an attempt to deal Reyes in the offseason due to his vocalized displeasure with playing for a losing franchise.
A deal jettisoning Reyes would make the shortstop position Story's for the taking, but general manager Jeff Bridich isn't committing to any predictions for his arrival.
"Nobody has a crystal ball here to know what the opportunity on the major-league level will eventually be," Bridich said.
(h/t Denver Post)