Robert Whittaker doesn't expect Derek Brunson to actually stand and trade with him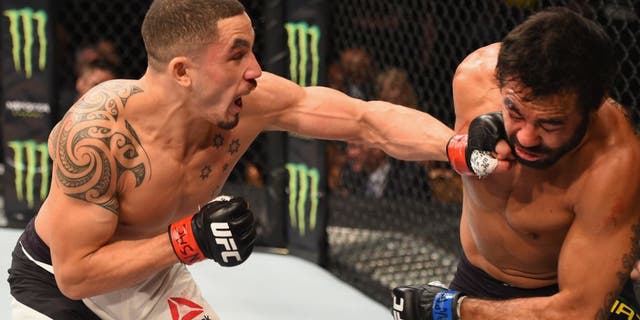 Robert Whittaker has heard Derek Brunson tout his impressive knockout streak where he's finished his last four opponents by knockout.
While Brunson's start in mixed martial arts came in wrestling, the North Carolina native has developed some very powerful hands with all four of those finishes coming inside the first round.
As fearsome as Brunson's power might be to some opponents, Whittaker invites him to try that same kind of attack when they met on Saturday night in Australia.
In fact, Whittaker couldn't ask for a better stylistic matchup than what Brunson will give him while they are standing and striking inside the Octagon.
"That's my perfect opponent. Give me space when I want it. Rush in reckless when I want it," Whittaker told FOX Sports about Brunson's style. "I'm really looking forward to it."
While Brunson has gained a lot of notoriety for his knockout streak, Whittaker doesn't expect that will ultimately be his plan when they finally meet in the cage.
Whittaker has faced a litany of past opponents who promised to stand right in the center of the Octagon and trade punches with him, but inevitably the same thing always seems to happen.
A few punches or kicks start to land and Whittaker is soon ducking and dodging takedown attempts because the opposition wasn't really ready to go toe-to-toe with him.
As much as Brunson has turned into a knockout artist lately, Whittaker expects the former college wrestler to do the exact same thing as all the others following a couple of exchanges with him on the feet.
"I'll definitely bring the wrestler out of him," Whittaker said. "I'm very confident against his wrestling. I make sure that I cover my bases. It's not like I haven't been working my wrestling since day one. And we're not on a wrestling mat. We're fighting.
"It's harder to shoot on someone when they're throwing punches at you."
When this fight first came together, Whittaker was slated to face Brunson in the co-main event from Australia, but an injury to former middleweight champion Luke Rockhold bumped him into the main event slot.
Now all the eyeballs are going to be directed at Whittaker and Brunson with both fighters looking to extend win streaks to six in a row with a title shot looming close on the horizon.
As much as Whittaker wants to concentrate on the here and now, there's no denying that a win over Brunson will put him very close to No. 1 contender status in the division.
It wasn't all that long ago that Whittaker was actually expected to face current champion Michael Bisping before he held the title and that's still a fight he'd love to get but for completely different reasons than you might expect.
"I want to fight Bisping still. Not because he's the champion, but just because that's a fight I want," Whittaker explained. "I want to fight all the best. I want to be the best fighter in the world. The only way to truly attain that title is by beating everyone."
While everyone else will be talking about title shots and win streaks, Whittaker is more concerned about spotlight he'll be under while competing in front of his friends and family in Australia.
As a native of New Zealand, Whittaker has dreamed of moments like this throughout his career so no matter how much the chatter will be about title shots and rankings, he's only thinking about one thing once he steps into the Octagon.
He must defend his house.
"That's what's important to me," Whittaker said. "I get to headline a card in my backyard. That's the biggest thing to me. It's a big fight over here.
"It's on my turf and there's no way he's going to get a win over me."