Robbie Lawler and Carlos Condit aim for swift finishes at UFC 195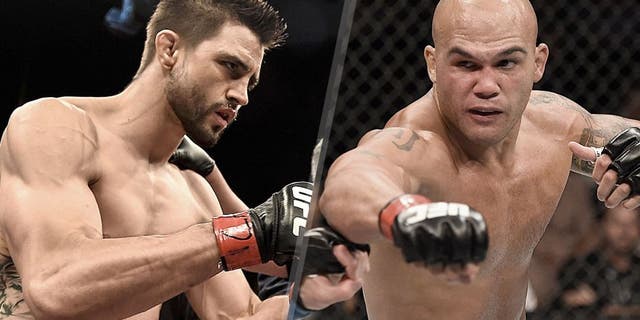 When UFC welterweight champion Robbie Lawler (26-10, 1 NC) puts his title on the line against Carlos Condit (30-8) at UFC 195, one thing is guaranteed -- violence.
With the welterweight division being one filled with warriors capable of ending their adversaries' night swiftly and definitively, the stakes are always high when the current champion defends his title. This time "Ruthless" will have to fend off the resurgent Condit in the main event bound for Las Vegas.
Originally, set to headline UFC 193 in Melbourne, Australia, the welterweight title fight was moved to Jan. 2 when Lawler suffered a thumb injury that delayed the contest. Lawler said it was a nagging injury that may have occurred in his war against Rory MacDonald and later flared up. Luckily, it wasn't major and required no surgery.
But getting the extra time to recuperate from that setback may have been a blessing in disguise. At a media event in Las Vegas on Wednesday, Lawler told FOXSports.com that he views "The Natural Born Killer" as someone who "can do it all."
"He's really good on the ground, really good striker, he's long, he's athletic, he moves well. He comes from a really good camp," Lawler said. "But really, I don't concentrate too much on that. I just concentrate on what I do which is punch hard and try to be slick and land big shots and my coaches are doing a great job of preparing me for it."
Since returning to the UFC, Lawler has won seven of his last eight contests. In that run, he's halted four of his opponents with strikes. After successful title defenses over Johny Hendricks and Rory MacDonald, Lawler wants to secure a quick finish over Condit. If he can avoid putting his body through another bout as taxing as his one with MacDonald, that would be ideal.
"No one wants to fight like that if they don't have to. Everyone would rather get a quick submission or knockout. I'm willing to do it. I'll do it as long as I have to," Lawler said. "But I don't really concentrate on those things. It's just all about being sharp and not taking too much damage and that's always the game plan."
Condit spent 14 months away from the sport recovering from a knee injury. In his return at UFC Fight Night: Condit vs. Alves, he brutalized Thiago Alves over the course of two rounds, forcing an end to the bout before the third round got underway. Condit made it clear he hadn't missed a beat when it came to dishing out destruction. But he too wants to avoid a bloody battle like the one he witnessed between Lawler and MacDonald.
"Fights like that, they change you. It's an ordeal," Condit said.
"I think some guys are able to take more damage, some guys are more resilient than others. The object is to hit the other guy and not get hit. I think the least amount of damage you can take is the best route."
Though Condit once held the interim belt and was the WEC welterweight champion, solidifying himself as an undisputed UFC champion means everything to him. UFC gold is the one thing that eluded him throughout his MMA career.
"That would be huge," Condit said. "I've come farther in the sport than I ever thought that I would. The interim belt thing still bothers me. It's not the legitimate belt. I wasn't able to unify the title and I get another chance. So it's super important and I'm super excited to get a second chance."
At UFC 171, Condit lost to Tyron Woodley when he tore his ACL in the midst of battle. The 31-year-old Albuquerque fighter would love to have the opportunity to avenge that loss in the near future. In fact, he's beaming with confidence that he'll have the chance to do it.
"Woodley's a great fighter and I think he deserves to be in line for the shot. I'm excited to make my first title defense against him."
UFC 195: Lawler vs. Condit will take place at the MGM Grand Garden Arena on Jan 2, 2016. Tickets for the event go on sale Friday, Oct. 23 via ticketmaster.com.