Rob Gronkowski buys stake in Kentucky Derby horse named after him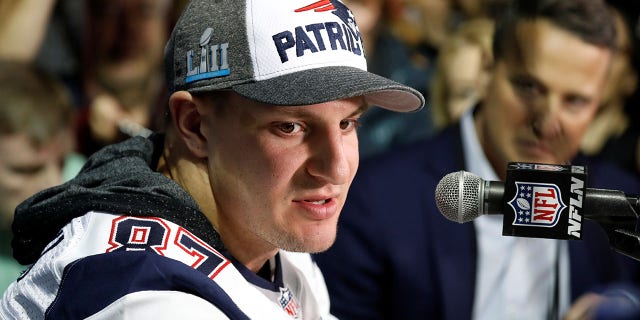 Rob Gronkowski has a horse in the Kentucky Derby – and it shares his name.
The New England Patriots tight end announced Wednesday he purchased a "substantial stake" in his namestake racehorse.
"This horse is a winner and I love a winner," Gronkowski said, according to his GronkNation blog. "When I heard about the racehorse being named after me, I started watching and got really stoked when he started winning. He's won his last three races and is now headed to the Derby. I'm all in: Welcome to the Gronk Family, Gronkowski the Horse!"
Gronkowski partnered with Phoenix Thoroughbreds Ltd to make the deal. The company initially bought the horse in England in 2017.
ROB GRONKOWSKI FULFILLS HEART TRANSPLANT PATIENT'S 'ONE WISH'
Bloodstock agent Kerri Radcliffe, who made the purchase for Phoenix Thoroughbreds and gave the colt its famous name, told USA Today she selected the horse because it was "built like a tank" and akin to "the equine form of Gronk."
The NFL star will be at Churchill Downs in Louisville to watch his colt's performance in the 144th running of the Kentucky Derby.
"I really can't think of anything cooler than having a top-class thoroughbred named after me," Gronkowski added. "Except maybe having him win the Derby."
The so-called "Greatest Two Minutes in Sports" will be held May 5. The winning purse is $2 million.
The two Gronkowskis will meet for the first time in the days leading up to the Derby.
Though the colt has a star patron, he is a dark horse with lackluster odds – just a 80-to-1 shot at a first place finish, according to the Westgate Las Vegas Superbook.
HORSE NAMED AFTER PATRIOTS' ROB GRONKOWSKI TO RUN KENTUCKY DERBY
The equine Gronkowski, a 3-year-old-colt, earned his Kentucky Derby berth after winning the Burradon Stakes in Newcastle, England, in March with trainer Jeremy Noseda. The victory lifted the thoroughbred to the coveted qualifying spot on cumulative points.
This year's Kentucky Derby is the first time the iconic race will allot one of its 20 spots to a European-based horse. Another spot will be fielded by a Japan-based colt.
The race is the first of the Triple Crown of Thoroughbred Racing, followed by the Preakness Stakes on May 19 and Belmont Stakes on June 9.