Road-course ace AJ Allmendinger rolls to pole at Watkins Glen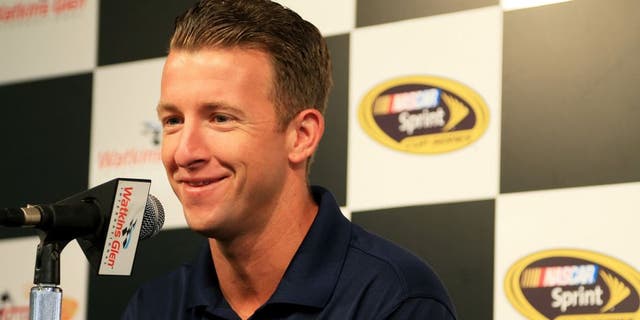 NEWYou can now listen to Fox News articles!
What a difference a day makes. During Friday's final practice at Watkins Glen International, defending race winner AJ Allmendinger was left frustrated and searching for speed.
When Saturday's qualifying session ended at the 2.45-mile road course, the JTG Daugherty Racing driver was accepting the Coors Light Pole Award after leading both rounds of qualifying.
With just over four minutes left in the final round, Allmendinger rolled off pit road and laid down a lap of 68.993 seconds at 127.839 miles per hour. Over the final three minutes no driver was able to best Allmendinger's lap, giving the driver of the No. 47 Chevrolet his fourth career pole and second of the season.
"It means we lead the field to Turn 1 at least," Allmendinger said after winning the pole. "I was frustrated yesterday, and I probably didn't help. I was over-driving and trying to get more than what was there. I didn't do a good job yesterday, so they saved me and gave me a good race car. Going into (Sunday) I feel happy with what we've got, but we'll see. It's a tough race. This Kroger's/Bush's Beans Chevy is going to be fast, and hopefully we're reliving last year."
Martin Truex Jr. was second fastest in the No. 78 Furniture Row Chevrolet, followed by Tony Stewart, Kevin Harvick and Jeff Gordon. Kyle Larson, Dale Earnhardt Jr., Kyle Busch, Jimmie Johnson, Austin Dillon, Brad Keselowski and Justin Allgaier rounded out the top 12.
In the opening minutes of Round 2, Harvick posted the fastest lap, bumping Gordon, who crossed the line just ahead of Harvick's No. 4 Chevrolet. With just over four minutes left in the session, Allmendinger was able to post the fastest lap and complete the sweep of poles for this year's two road-course races.

When the track opened for the first round, numerous cars made a mad dash for the track to make their first qualifying run. Larson posted the fastest lap of the early session, but as the session went on was bumped from the top spot by Harvick. Allmendinger knocked Harvick from the top spot with just over 17 minutes left in the session.
With roughly five minutes left in the opening round, a number of teams made a second attempt at a qualifying lap, once again jumbling the running order. Many drivers who did not advance to the final round bemoaned the traffic that slowed their qualifying efforts on the tricky 2.45-mile road course.
Denny Hamlin was the last driver bumped from the top 12 and will start Sunday's race from 13th. Kurt Busch had the second fastest lap of Round 1 at one point, but was unable to pick it up like others on his second run, and will start 14th.
Michael Waltrip Racing's Clint Bowyer was fastest in the weekend's opening practice session on Friday, but will start 18th on Sunday.
Greg Biffle was third fastest in Friday's final practice session, but that speed did not carry over to Saturday's qualifying session, as the Roush Fenway Racing driver will start 25th. Richard Petty Motorsports' Sam Hornish Jr. put his No. 9 Ford in the top 10 in both practice sessions on Friday, but will start 24th on Sunday.
With only 44 cars entered for this weekend's event, TJ Bell in the Premium Motorsports No. 62 car was the only driver who failed to qualify for Sunday's race.