Rio 2016: For Steven López, taekwondo and the Olympics are a family affair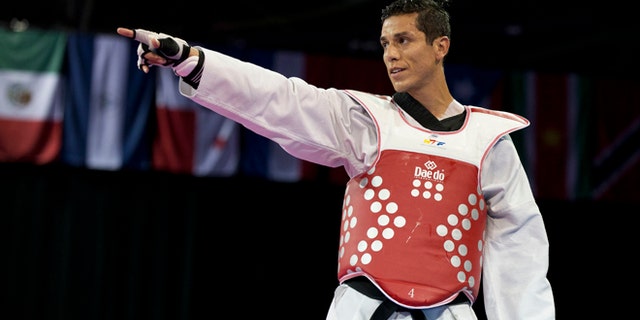 NEWYou can now listen to Fox News articles!
It just wouldn't be an Olympics without Steven López.
The taekwondo master – who has been referred to as "the Muhammad Ali of the mat" – is competing in his fifth Olympic Games, having won two golds and a bronze dating back to the 2000.
And the signs are good for him in the men's 80 kg competition.
Taekwondo is a family affair for López, 37. He says that when his siblings have had a baby a year before the Olympics, he's ended up on the podium.
"In '99, Jean, my older brother, had a baby and she was my inspiration," Lopez told the Associated Press recently. "In 2003, he had another baby. In 2007, he had another baby. In 2011, no babies — and I didn't do well. And now Liliana, my sister Diana's baby, was born in 2015. So I'm ready to go."
At a Glance
Name: Steven Lopez
Age: 37
Discipline: Taekwondo
Division: 80 kg
Begins competition: Friday, Aug. 19
In fact, the López clan of Sugar Land, Texas, is to taekwondo what the Bush family is to Republican politics. Brothers Steven and Mark and sister, Diana, have all excelled in the sport – with their eldest brother Jean as their coach – representing the U.S. internationally and winning a ten-gallon hat's worth of medals.
Steven was the first to make his mark, winning gold medals in Sydney 2000 and Athens 2004, but Mark and Diana weren't far behind.
The next year, all three won gold at the World Taekwondo Championships, becoming the first set of triple siblings to be world champions in any sport.
All three qualified for Beijing 2008 and medaled, with Diana—the baby of the family—taking home a bronze in the 57 kg group, and youngest brother Mark winning silver in the 68 kg division, despite having broken two fingers in his first match.
Steven was derailed in his quest for a third consecutive gold by a controversial call by the referee in his 80 kg semifinal (later acknowledged to be incorrect by the World Taekwondo Federation). He took home the bronze instead.
Diana and Steven both made it to London 2012, and Mark, too, as Steven's training partner, but neither wound up on the podium. Steven's mobility was hampered by a broken leg.
"There are some times in our lives when you kind of look up and then go, 'Why? Why did this happen?'" Steven Lopez told AP. "Unfortunately, one of those instances happened to me two weeks before my competition date when I got injured, and I went out there and tried the best I could. The doctor shot me full of lidocaine that morning, and I did the best I could."
He lost in the first round.
"I couldn't go out like that," he said.
So now, in Rio, with Diana starting a family, it's back to just Steven, although Jean is his coach and Mark his training partner.
But the secret to their success goes back to their parents.
Julio and Ondina López moved to New York City from Nicaragua in 1972, before any of their kids were born. Julio, a one-time track athlete and swimmer, was an architect and a structural engineer who did some work for the Anastasio Somoza regime.
In New York, he worked odd jobs, including a stint at a clothing factory, before he was able to find work as an architect in Houston in 1978. A Bruce Lee and Chuck Norris fan, López steered his children toward the martial arts and built a makeshift practice facility in the family garage.
"Not only are we like the epitome of the American dream, we've been successful at the sport for so long that we know the Lopez name will always be part of the taekwondo world," Diana Lopez told AP. "I think our legacy will always be there. My brothers and I have carved a path for all taekwondo players, not just in the U.S."
"It's just an ordinary family that's been able to do extraordinary things," Steven López said. "It's through faith in God, love of family and dedication and sacrifice. My parents immigrated from Nicaragua, a very poor country, and what my parents showed me is the work ethic and to appreciate every single thing this country has offered me. So in training, we take into account the way we were brought up, to be the very best."
And there's very little question about that López has achieved that.
"He's the greatest of all time in our sport," U.S. teammate Stephen Lambdin said. "There's no ifs, ands or buts about it. You can spend five minutes with this guy and get a massive amount of experience. Anytime he stops and starts to get serious and talks taekwondo, everybody in the room gets quiet and listens. There's nobody in the history of the sport that has his experience and general determination. Like I said, he's the greatest of all time."
The Associated Press contributed to this report.
Like us on Facebook
Follow us on Twitter & Instagram