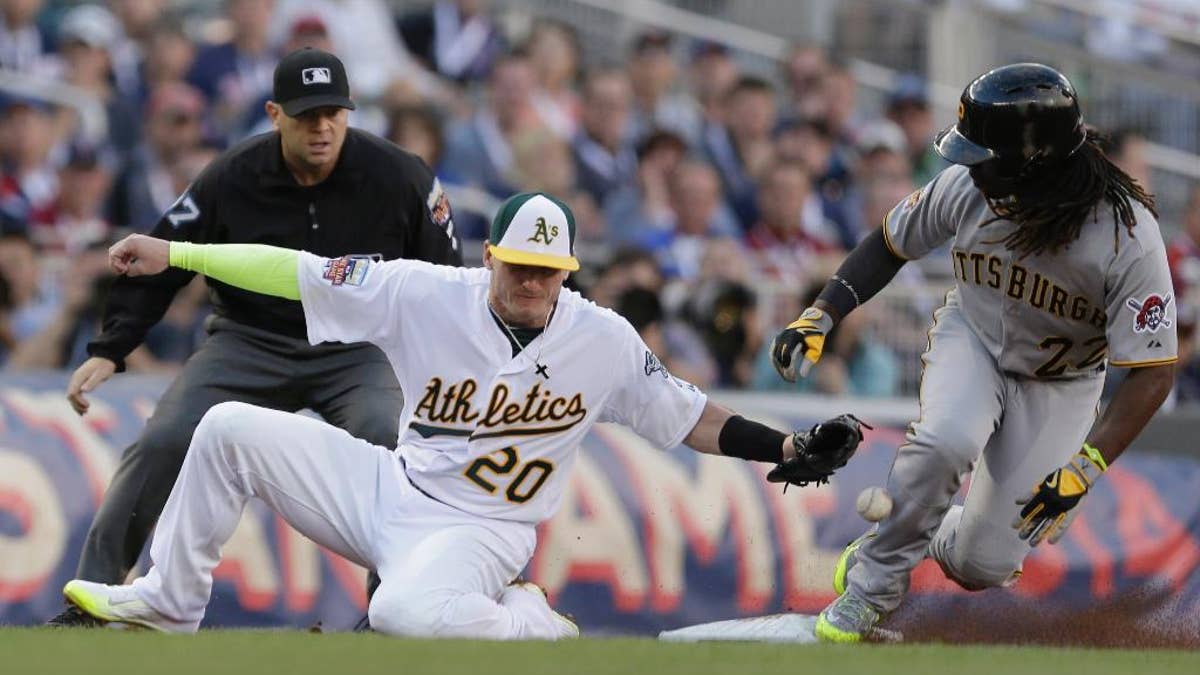 MINNEAPOLIS – The bullpen door swung open, and Glen Perkins ran out on his way to the mound he's made his ninth-inning home at Target Field.
Minnesota's closer worked a routine three-up, three-down appearance, for the most memorable save of his life. He finished the American League's 5-3 victory over the National League on Tuesday night, with Twins fans cheering him the whole time.
Not a bad way to finish an All-Star game in the place he grew up.
"Hearing how loud the fans were, it makes me want to get to the playoffs because I think it felt like a playoff atmosphere out there tonight," Perkins said, adding: "Loss of words. I am not usually at a loss of words, but I am now."
Twins catcher Kurt Suzuki came in to catch his teammate. Perkins, who grew up in Stillwater, a suburb east of Minneapolis, pitched for the University of Minnesota before being drafted by the Twins in the first round in 2004.
___
HOMECOMING, PART TWO: St. Louis reliever Pat Neshek, who started his career with the Twins and also grew up in a Minneapolis suburb, Brooklyn Park, had a big grin on his face as he tipped his cap to the crowd during pre-game introductions. He was even announced as a former member of the Park Center Pirates, a nod to his high school less than 10 miles north of the downtown ballpark.
Neshek took the loss, giving up two fifth-inning runs. But he wasn't going to let that ruin his experience.
"It's baseball. The balls don't bounce your way. It's a tough one, but I think everybody had a lot of fun," Neshek said.
Not that Neshek was blaming the field for any bad bounces — his brother works on the ballpark's grounds crew.
___
DARVISH DEBUT: Texas ace Yu Darvish finally got to pitch in the All-Star game after being selected for the last two but was left in the bullpen. The highlight of his scoreless innings was a 56 mph pitch to Troy Tulowitzki.
"That's really my strength. I wanted to pitch at least one in this game," Darvish said through an interpreter.
Quite the contrast from the 100 mph heater Aroldis Chapman threw later.
___
THE A-LIST: Oakland had a major league-high six players selected for the All-Star game, plus a seventh in recently acquired right-hander Jeff Samardzija, who would have been included on the NL side had he remained with the Chicago Cubs.
After consecutive AL West titles with a roster largely unknown to mainstream fans around the country, these Athletics have finally received their due.
"It's definitely an honor for all of us to be here," said third baseman Josh Donaldson, the lone starter in the group. "I feel like this is the results of playing well the last two years, and obviously playing well this year, too. We feel that we definitely have the team to beat, just because the last couple years we've won the division and our guys are real focused on that."
With outfielder Yoenis Cespedes, first baseman Brandon Moss and catcher Derek Norris joining Donaldson, the A's have position players represented for the first time since catcher Ramon Hernandez in 2003.
That's a long gap, but it's a good guess that they won't have to wait so long for the next recognition.
"It's really cool to have that many guys here and get to share it with them," Moss said. "These are the same guys that have been there for two years, except for Kaz. But we have a lot of guys that can do a lot of special things."
Pitchers Sean Doolittle and Scott Kazmir were the other A's on the AL squad.
___
STILL WELCOME: Jeff Samardzija was declared ineligible by Major League Baseball to participate since the trade that sent him from the Cubs to the A's was finalized the day before the All-Star rosters were revealed. Still, the lanky long-haired Samardzija was at Target Field for the festivities this week.
He stood last in line with the NL reserves, wearing a generic red-and-blue workout day jersey for the NL. His hat, which could've been picked up at one of the souvenir shops in the concourse, read "MLB All-Star Game" with this year's logo in the middle.
"These last couple weeks have been pretty tumultuous. It's going to be nice to get back to normal and just play together," Samardzija said.