Ricky Stenhouse Jr. brings back the 'purple stuff' SunnyD television commercial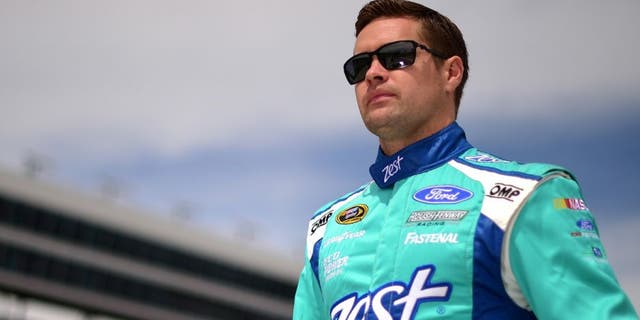 NEWYou can now listen to Fox News articles!
The folks at Roush Fenway Racing know how to have fun. That much is obvious.
With the help of Charlotte media agency Theory Communication & Design, the folks at RFR have done a humorous remake of the popular "purple stuff" SunnyD television commercial of the 1990s.
It's a timely move, given that SunnyD will be the primary sponsor of Ricky Stenhouse Jr.'s No. 17 RFR Ford this weekend at Dover International Speedway
The remake stars Stenhouse and Chris Buescher, along with NASCAR on FOX on-air personalities Andrew Doud and Kaitlyn Vincie.
"We thought it would be a fun way to generate some exposure for SunnyD, who will be the primary on our No. 17 Ford Fusion this week in Dover," said Stenhouse. "Everyone is familiar with the classic "purple stuff" commercials, so when SunnyD signed to partner with us for five races this season it was pretty much a no-brainer that we were going to have some fun with it.
"When we found out that Ricky and the crew wanted to shoot a riff on the classic SunnyD "Purple Stuff" advertising campaign, we could not have been more excited to participate," said Michael Burton, Chief Marketing Officer, Sunny Delight Beverages Company. "Ricky, Chris, Andrew and Kaitlyn all did an amazing job in bringing the old ad back to life. It will be fun to see what these guys want to do next."