RG3 is trying to prove he's coachable by 'breaking windows' with passes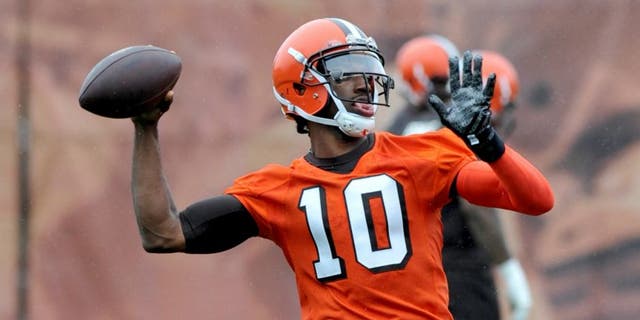 NEWYou can now listen to Fox News articles!
Robert Griffin III is trying to make the best impression with his new coaching staff, but it's how he's going about doing it that's a bit of a head-scratcher.
The new Cleveland Browns quarterback told reporters Wednesday that the reason he's thrown some passes over the 16-foot fence that surrounds the practice field and into residential backyards is to prove he's coachable.
"Just throwing it away,'' Griffin said, via the Cleveland Plain Dealer. "Coach asked me to work on those things. If he asked me to throw it away, I'm going to throw that thing as far as I can -- €" all the way away."
Griffin was criticized by former Redskins quarterback Mike Shanahan for never giving up on a play -- opting to try to scramble and risk injury than just throw the ball away. It looks like Griffin, who has had a history of injury during his first four years in the league, has taken this to heart.
"I'm just being coachable,'' he said. "You have to practice the way you play -- sliding, throwing the ball away, all those things, keeping positive downs and distances. Those are important. It seems funny throwing the ball over the fence, but it's just part of the process. You have to take everything into account."
No. 2 overall draft pick Griffin burst on to the scene in 2012, winning Offensive Rookie of the Year after throwing for 3,200 yards with 20 touchdowns and five interceptions. But multiple leg injuries robbed him of much of his mobility, and his passing numbers suffered.
Browns head coach Hue Jackson and associate head coach Pep Hamilton are working with Griffin, trying to eliminate any flaws in his throwing mechanics.
"Every practice you have to practice like it's a game and I think those are two of the things that I didn't practice enough,'' Griffin said. "I didn't practice throwing the ball away enough, I didn't practice sliding enough. So that's why I slid last week and that's why you see me breaking windows out there on the field.''