Return for Ravens receiver Breshad Perriman unknown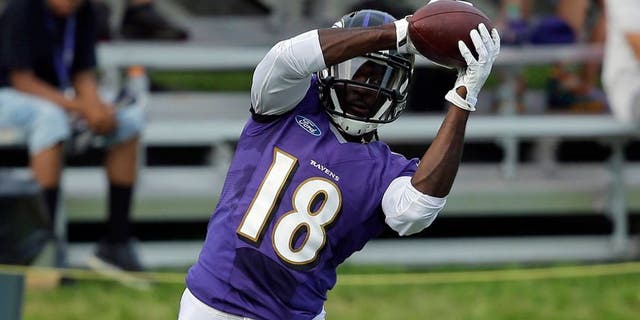 Ravens coach John Harbaugh has given up on any kind of timetable for Breshad Perriman's return.
Harbaugh first said it would be a "day or two" when Perriman initially went down with a knee injury while making a catch on the very first day of training camp. Then he said Perriman would likely be back at some point during camp, which officially ended Aug. 18. As the team prepares for its most important preseason game Saturday against Washington, Harbaugh has no answers.
"I'm asking too," Harbaugh said Thursday via the team's official website. "It's just slower healing than [doctors] expected. They really don't have a timetable right now. That's all I really have to say on that."
An MRI on Perriman's knee taken Aug. 17 came back normal, but Perriman still hasn't even suited up for practice.
Perriman has a history of knee issues dating back to his high school days due to a genetic condition called Osgood-Schlatter disease, which causes knee inflammation in children and adolescents. Perriman's father, 10-year NFL veteran receiver Brett Perriman, revealed to The Baltimore Sun back in May that he and all three of his sons suffered from the condition before outgrowing it as adults, as most typically do.
For now, it appears Perriman has lost his initial shot at a starting role with the Ravens as Kamar Aiken looks to have the inside track at being the team's No. 2 wideout across from Steve Smith Sr. Quarterback Joe Flacco still can't wait to get Perriman back in his arsenal, however.
"It's disappointing but that's the name of the game, that's football," Flacco said. "I wish we had him out here. I think he's an awesome talent, he's going to help us out a lot, but he's not going to help us out if he can't run."
h/t: Baltimore Ravens