Restructured Cardinals look for more improvement against Phillies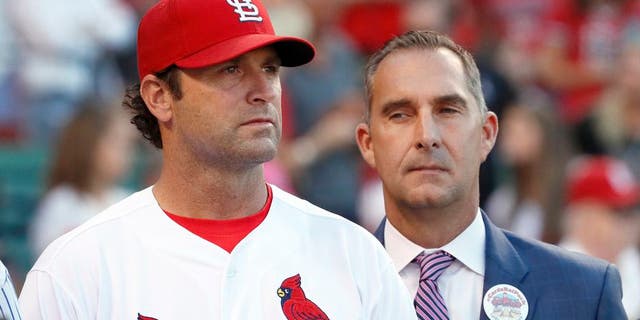 NEWYou can now listen to Fox News articles!
ST. LOUIS -- John Mozeliak stood at the podium Friday, just over five hours before the St. Louis Cardinals' game with the Philadelphia Phillies, and admitted what became painfully obvious during an 0-7 road trip.
"I feel like standing up here and doing nothing and hoping for another outcome is not useful," he said.
That's why St. Louis' general manager made a boatload of moves. The most prominent among them was designating former All-Star shortstop Jhonny Peralta for assignment after activating second baseman Kolten Wong (elbow) from the 10-day disabled list.
The Cardinals also reassigned third base coach Chris Maloney, who had caught flak recently for questionable decisions that led to critical outs on the bases, within the organization and bumped quality control coach Mike Shildt up to third base coach.
Also, the Cardinals added longtime minor league manager/coach Ron "Pop" Warner to the staff and promoted Triple-A hitting coach Mark Budaska to the big club. He'll serve as assistant hitting coach while Bill Mueller takes a leave of absence.
In their first game after Mozeliak shuffled the deck, the Cardinals ended their longest losing streak in seven years by nipping Philadelphia 3-2. Game 2after his personnel moves takes place Saturday in Busch Stadium.
If nothing else, one of the most tumultuous days in recent franchise history sure seemed to have the attention of the players and manager Mike Matheny before and after they finally returned to the win column.
"It hurts as if I've let them down individually or collectively," Matheny said. "There's no doubt there's pressure. It's all about the here and now. There's always tough decisions and tough conversations to be had. You don't do it without a heart."
"This is all a direct result of how we've been playing," said third baseman Jedd Gyorko. "We've got to play better. If we're 10 games over .500 and in first place, these changes aren't going to happen. We're not where we want to be, but we know we can turn it around."
Friday night's win, which featured the first quality start for a St. Louis pitcher since June 1, is a small step in that direction. A more meaningful step in a positive vein would be consecutive wins.
The pitching matchup certainly appears to favor the Cardinals (27-32), who will trot out Carlos Martinez (4-5, 3.10 ERA) against rookie Nick Pivetta (1-2, 5.18).
Martinez cruised through six shutout innings Monday night in Cincinnati but gave up four seventh-inning runs and took a 4-2 loss. He's 2-0 in five prior appearances, two of them starts, against the Phillies with a 3.21 ERA.
Pivetta is coming off his first big-league win Monday night in Atlanta, lasting five innings in an 11-4 verdict. He allowed six hits and three runs, walking three and whiffing four. That's been par for the course in Pivetta's five starts, which have seen him allow nearly two baserunners per inning.
After winning four straight games and averaging seven runs per game in doing so, Philadelphia (21-38) has gone back into flail-and-fail mode offensively. It has lost three in a row, managing just four runs total.
"We've scored seven runs in our last four games," Phillies manager Pete Mackanin said. "It's hard to win like that."