Report: Texas boosters pressing hard to oust Charlie Strong and hire Tom Herman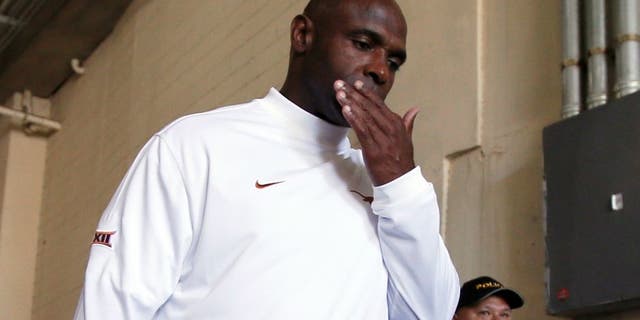 NEWYou can now listen to Fox News articles!
Charlie Strong's job security at Texas has been a weekly source of drama as the Longhorns have experienced countless ups and downs this season. But now comes word that the pressure to replace him might have reached a new level.
According to an ESPN report, prominent boosters at Texas are applying "extreme pressure" to dismiss Strong and replace him with Houston head coach Tom Herman. It isn't the first time Herman has been linked to Texas, but the Cougars' 36-10 win over No. 5 Louisville on Thursday apparently reignited the boosters' fervor -- and upped their anxiety that another school could swoop in and hire Herman. From the ESPN report:
"Herman was dead in the water (with Texas) when he lost to SMU (Oct. 22)," a source said. "And now he's hotter than ever."
Strong has led the Longhorns to a disappointing 5-5 record this season, and each time it appears he has the program back on track, Texas suffers another demoralizing defeat. Since taking over for Mack Brown after the 2013 season, Strong is just 16-19 in Austin.
Meanwhile, Herman has become one of the hottest names in the coaching fraternity this season by guiding the Cougars to a 9-2 record -- including wins over Oklahoma and Louisville. In his first season at Houston last year, he went 13-1 with a Peach Bowl win over Florida State.