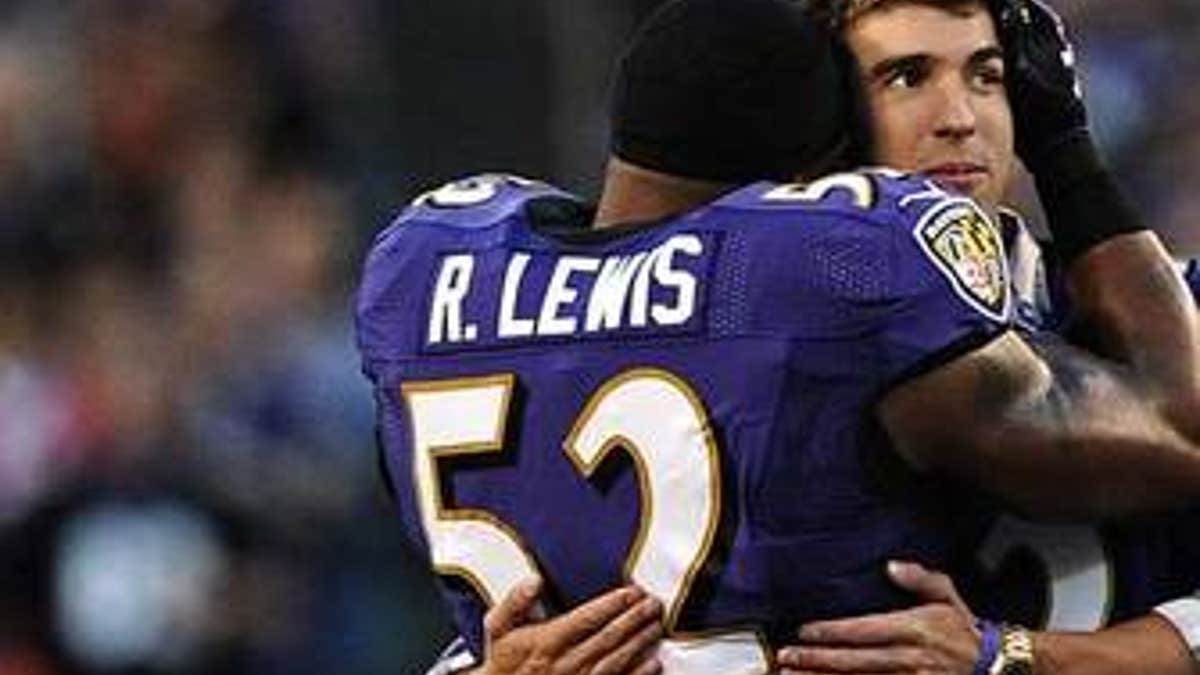 Olympic legend Michael Phelps reportedly has credited Baltimore Ravens linebacker Ray Lewis with helping him rediscover his motivation after the 2008 Beijing Games.
Phelps, a longtime Ravens fan and Maryland native, is understandably giddy that Baltimore has reached Super Bowl XLVII against the San Francisco 49ers.
"I was going crazy," Phelps said Sunday in the Ravens' locker room after the AFC Championship Game victory over the New England Patriots. "I literally can't say it enough. This is one of the coolest feelings I've felt in a long time." (Watch the video at the link to the right.)
But Phelps, who retired from competitive swimming at age 27 after another brilliant Olympics in London, may be happiest for Lewis, who is retiring at season's end. The two stars are close, and, according to a report in The Washington Post, Phelps says Lewis helped him with his personal and professional issues after the 2008 Games.
"We've talked about so much the last couple years of my career," Phelps told the Post. "He just helped me get through a lot of hard times, and I wouldn't have been able to do it without him."
Phelps, who had struggled getting motivated to train after the 2008 Olympics, went on to win four gold medals and two silvers in London, giving him an amazing 18 golds and 22 overall medals in his stellar career -- both Olympic records.
He told the Post that, through it all, Lewis has been one of the few who can really relate to his experiences.
"He's been through everything -- the ups and downs -- and he's helped me literally overcome a lot of things that I've had in my life that have been tough, and he's been there for me," Phelps said.