Report: Odell Beckham Jr. fined for actions in Week 4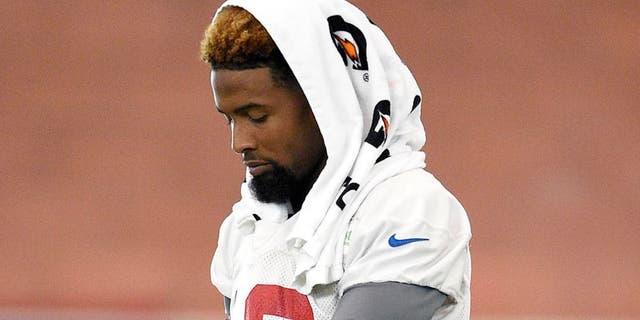 NEWYou can now listen to Fox News articles!
New York Giants wide receiver Odell Beckham Jr. has been fined nearly $9,000 for his actions during Sunday's Week 4 win over the Buffalo Bills, per a source close to ESPN's Dan Graziano. Beckham made headlines this week for allegedly throwing several punches at Bills players.
A second look at the game tape shows Beckham throwing a punch at Bills safety Duke Williams in the fourth quarter during a Bills interception return. Beckham was not penalized on the play for unsportsmanlike conduct.
Beckham found himself matched up with Bills cornerback Sephon Gilmore for most of the afternoon. After the game, Gilmore talked to the Buffalo News about matching up against Beckham and his opinion on why the second year wide receiver acted the way he did.
"I don't know what's up with him," Gilmore said to Tyler Dunne of the Buffalo News. "He acts like nobody's supposed to hit him and you're supposed to let him catch the ball. He's weird. He gets mad when you play physical with him. He's weird.
"He's different. It's kind of like you're playing your little brother and he gets mad at you for being too physical with him -- throwing a tantrum. I'm like, 'Man, we're playing football. It's a physical game. ... He's a prima donna. He feels like he's on top of the world and nobody's supposed to do anything to him."
On Wednesday, Giants head coach Tom Coughlin spoke to the media about the incident with Beckham last Sunday.
Coughlin is hoping that Beckham will play smarter, but still maintain the same passion and intensity on every play -- including the ones where he is only involved as a blocker.
Based on Coughlin's comments, it seems unlikely at this time that Beckham will be handed down a suspension or any further discipline from the team.
MORE NEWS: Want stories delivered to you? Sign up for our NFL newsletters.