Report: Luke McCown's back injury did not come from one single event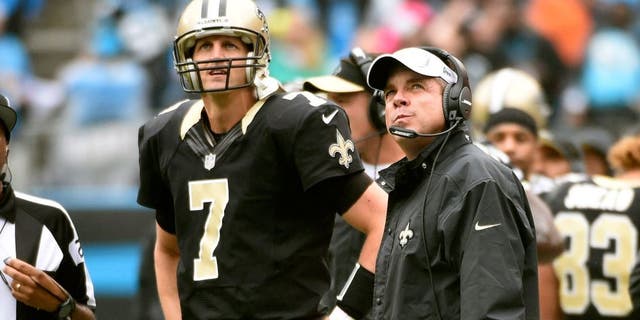 Sep 27, 2015; Charlotte, NC, USA; New Orleans Saints quarterback Luke McCown (7) and head coach Sean Payton on the sidelines in the fourth quarter. The Panthers defeated the Saints 27-22 at Bank of America Stadium. Mandatory Credit: Bob Donnan-USA TODAY Sports Bob Donnan USA TODAY Sports
While we know at this point that backup quarterback Luke McCown will miss the remainder of the 2015 season after having back surgery, we also know that the reason for the surgery didn't come on any one single play.
According to Joel A. Erickson of The New Orleans Advocate, this is something that happened over time, and head coach Sean Payton spoke about it.
"Sometimes that's the case with a back," Payton told The New Orleans Advocate. "Without getting too technical, sometimes you're able to have an epidural and kind of come back and be healed or feel a little bit better. This was maybe a little bit further along."
"He should have no residuals with the procedure," Payton said. "There wasn't one event, though. … It wasn't something specific. He began having soreness and tingling in his left leg, and spent some time, went and saw a specialist and went ahead with the procedure."
McCown started one game in place of Drew Brees this season, and did a solid job of filling in. The game was back on September 27 against the Carolina Panthers, and McCown completed 31 of 38 passes for 310 yards and an interception.
The Saints have signed Matt Flynn to backup Brees to finish out the 2015 season.