Report: Kyle Korver was upset after being cut from Team USA's World Cup roster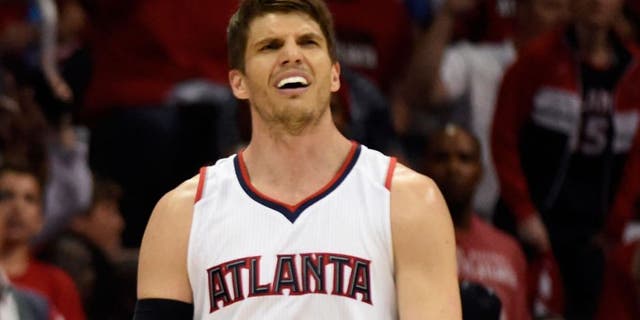 NEWYou can now listen to Fox News articles!
Atlanta Hawks forward Kyle Korver was positive and professional when publicly discussing being one of the last cuts for the Team USA 2014 World Cup team, but he might have been more upset than he was letting on.
According to SheridanHoops.com, Korver was privately upset, so much so that he refused to watch any of the team's World Cup games:
"Korver told me in April that he did not watch a single game of the competition last summer because he was so upset at being cut."
This contradicts Korver's public comments at Hawks media day last fall, which paint his perspective on the experience in a different light (via Peachtree Hoops):
"It was great," Korver said. "Obviously, it was a great honor just to be invited to that, to be a part of that. It was a good learning experience. It got me playing good basketball earlier in the summer. I usually do a lot of shooting, but I don't usually do a lot of 5-on-5 playing. I think that will help me out as far as preseason and training camp. Overall, it was a really good experience for me."
It wasn't all bad for Korver, though.
He and his wife were expecting their second child, so not making the team allowed him to spend important time with her.
Korver was initially in Team USA's play pool for 2014-16, but did not attend the minicamp in Las Vegas, and has not been publicly excused the way Kobe Bryant and Andre Iguodala have been. He's theoretically eliminated from a spot on the 2016 Olympic team, even though he would have been a long shot anyway.
(h/t NBC Sports' ProBasketballTalk)