Report: J.J. Watt played with herniated disk, torn muscles in 2015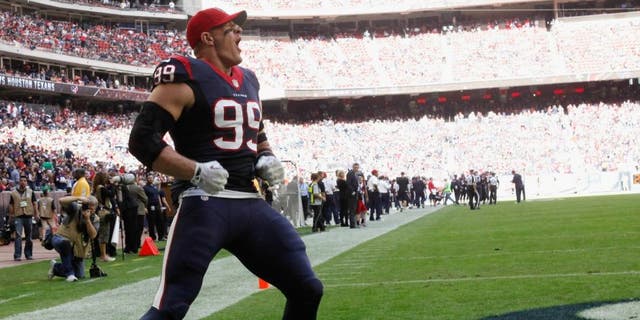 J.J. Watt has yet to miss a game due to injuries in his career, but that streak was nearly snapped multiple times during the 2015 NFL season.
The three-time defensive player of the year played with a club after breaking his hand in a December practice, and revealed after a playoff loss to the Chiefs that he dealt with a groin injury for the last "six or seven" weeks of the season. Watt had surgery to repair his groin injury shortly after the Texans' season came to an end.
Just this week, Watt revealed in a radio interview that he suffered a herniated disk halfway through the season.
Via SportsRadio 610:
"Last year, was definitely by far the most strenuous on my body that I've ever had, fighting through a bunch of things that I've never dealt with before. We had the broken hand. I had a herniated disk in my back halfway through the year. I had, obviously, everything that went on with my groins and I don't think everyone fully understand what that process was like."
ESPN reported Thursday that Watt also played with five partially or fully torn core muscles.
"According to a source, Watt had partially torn left and right abdominals and a partially torn right adductor longus. He also had a fully torn left adductor longus and a fully torn left adductor pectineus, which are two of the three muscles that connect the pelvic bone to the left thigh bone."
Despite all of that, Watt still led the league in sacks with 17.5 and led the Texans to the playoffs. According to Watt, playing hurt is just a part of the job.