Report: Bryant, Kupchak leave Lakers game, visit Odom in hospital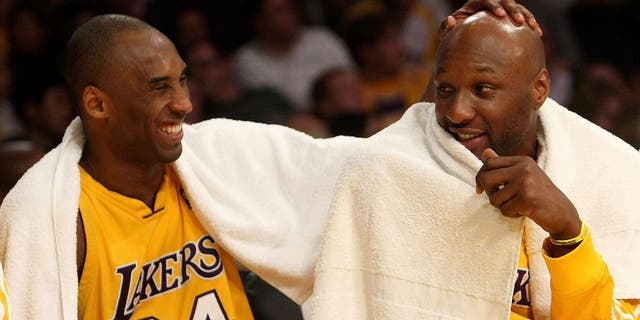 NEWYou can now listen to Fox News articles!
When Kobe Bryant left the Los Angeles Lakers' preseason game in the third quarter on Tuesday, the official word was he suffered a leg contusion, headed to the locker room and did not return to the court.
But early Wednesday morning, Los Angeles Daily News Lakers beat reporter Mark Medina confirmed earlier social media buzz that Bryant instead left the MGM Grand Garden Arena in Las Vegas to be by the side of former teammate Lamar Odom, who was hospitalized earlier in the day after being found unconscious in a Nevada brothel.
Mitch would be Lakers general manager Mitch Kupchak, who originally put Odom in purple and gold when he obtained the versatile swingman in a 2004 trade which sent Shaquille O'Neal to Miami and officially ended one of the greatest eras in Lakers history while at the same time ushering in another era which would lead to back-to-back NBA championships in 2009 and 2010.
The 35-year-old former Los Angeles Laker and member-by-marriage of the Kardashian family was in a Las Vegas hospital Tuesday night with no immediate word on his condition, officials told The Associated Press.
The Nye County Sheriff's Department was called at about 3:15 p.m. to Love Ranch in Crystal, Nev., about 70 miles outside of Las Vegas for a report of an unresponsive man needing an ambulance, Sheriff Sharon A. Wehrly said in a statement.
Speculation about Odom's condition has varied, but TMZ reported late Tuesday that Odom is in a coma and "fighting for his life" with ex-wife Khloe Kardashian at his side.
While Bryant and Kupchak were missing following the Lakers' 107-100 loss to the Sacramento Kings, plenty of Lakers did offer up their thoughts and prayers on Odom. Metta World Peace, a teammate with Odom on the Lakers championship teams, found it difficult to muster many words when speaking with reporters.
"There's nothing I can say. I don't even know what to say," said World Peace, who grew up with Odom in the New York City area before playing with him in purple and gold from 2009 to 2011. "There's not one word I can say right now that would make sense."
The Lakers franchise had yet to officially comment on Odom as of early Wednesday morning, but coach Byron Scott told reporters after Tuesday's game, "Our heart and thoughts and prayers are with Lamar and his family and I wish him all the best That's obviously something you don't want to hear before the game."
According to the Los Angeles Daily News, "before and after the game, various team employees tried to get more information on Odom's whereabouts," and Scott did not discuss Odom with his players because he "didn't think it was an appropriate time to do it before the game."
But the Daily News added that longtime Lakers trainer Gary Vitti did update players on Odom's condition as he learned information.
"(Vitti) told us pretty much everything that's been going on and how Lamar was, and how he thought the Lakers were his family," Lakers swingman Nick Young told the DN. "He told us a story about how many people he lost in his life and friends. It's sad. I don't know how anybody can deal with that."
Among the losses in Odom's life are his mother Cathy Mercer, who died of cancer when Odom was 12; his grandmother Mildred Mercer, who raised him following his mother's death and died in 2004; and his son Jayden, who died of SIDS at six months old in 2006. Odom was also the passenger in a car that struck and killed a 15-year-old on a bike in 2011.
Other current and former players and other members of the NBA community offered their thoughts and prayers for Odom on Twitter.
-- The Associated Press contributed to this report