Report: Broncos asked Colin Kaepernick to take big pay cut in trade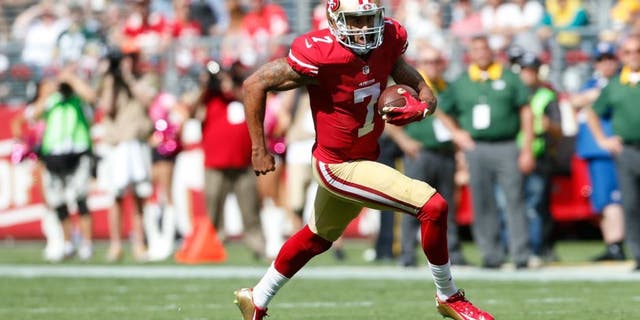 There hasn't been much chatter about the possibility of the Denver Broncos trading for San Francisco 49ers QB Colin Kaepernick lately. And now we might know why.
According to Bleacher Report, the Broncos are asking Kaepernick to take a sizeable pay cut to make a trade happen:
Kaepernick is set to earn an $11.9 million base salary --€" a figure that becomes guaranteed on Thursday afternoon -- in the upcoming season. He has been seeking a trade from the Niners, despite new head coach Chip Kelly expressing a desire to keep him in the offense.
Kaepernick, 28, is coming off an injury-plagued season in which he played just nine games. His play has slipped since leading the 49ers to the Super Bowl in the 2012 season and to the NFC title game in the 2013 season.
After losing Peyton Manning to retirement and Brock Osweiler to free agency, the Broncos acquired Mark Sanchez from the Philadelphia Eagles. However, Broncos GM John Elway signaled that wouldn't be the end of the QB shopping. Earlier this week, the defending Super Bowl champions were linked to Cleveland Browns backup Josh McCown and Houston Texans backup Brian Hoyer. But Kaepernick has been the source of most of the speculation.