Referee admits to errors in contentious semifinal between Mexico and Panama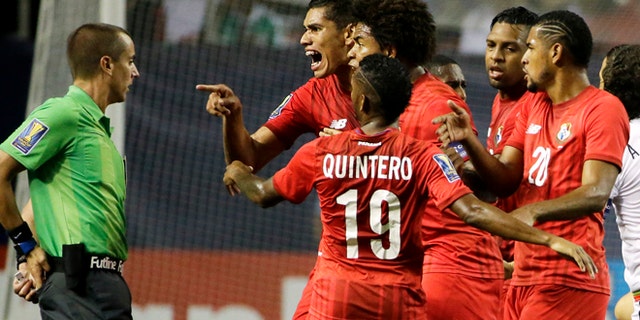 NEWYou can now listen to Fox News articles!
CHESTER, Pa. (AP) – The president of CONCACAF said Saturday the referee acknowledged making mistakes during the contentious Gold Cup semifinal between Mexico and Panama.
The regional soccer body did not say what those errors were. Mexico won 2-1 on Wednesday in Atlanta to reach Sunday's title game against Jamaica.
Referee Mark Geiger "accepted that officiating errors had been made" and they "impacted the outcome," CONCACAF President Alfredo Hawit said in a statement. Hawit added that "such human errors are part of the game."
Panama was incensed by two particular calls in the loss. First, Geiger issued a disputed red card to Luis Tejada in the 25th minute. Panama still went ahead 1-0 despite playing with 10 men. But Geiger then called a hand ball when Roman Torres fell on the ball in the area, leading to Andres Guardado's penalty kick in second-half stoppage time for regional power Mexico.
Guardado won it with a penalty kick in extra time on a less debatable call.
The Panamanian team posed with a banner after the game calling CONCACAF "corruptos ladrones" (corrupt thieves), and Panamanian Football Federation President Pedro Chaluja told reporters Friday "we feel that that game was fixed."
Geiger last year became the first American to referee a knockout stage World Cup match.
Hawit became president of North and Central America and the Caribbean's governing body in May after Jeffrey Webb's indictment. Webb and predecessor Jack Warner were named in a U.S. federal indictment charging soccer officials with racketeering, bribery and money laundering.
Panama and Costa Rica have formally asked for reviews of CONCACAF'S referee procedures, according to a person in the governing body with knowledge of the requests.
The person spoke on condition of anonymity Friday because he was not authorized to discuss the matter. CONCACAF had announced that the issue had been added for discussion to the agenda of Saturday's executive committee meeting but did not detail the requests.
In the final minute of extra time in Sunday's quarterfinal, Mexico was awarded a questionable penalty kick with the game tied 0-0 and converted to beat Costa Rica.
The person said Panama requested investigations into the referee committee and its procedures, the people who assign referees to games, all unspecified "suspicious matches," and Geiger.
In a separate letter, Costa Rica made similar requests. It also requested that certain referees not be assigned to its matches in the future.
CONCACAF said in a statement: "The confederation takes these claims extremely seriously and will look into them immediately."
On Thursday, Panama's federation demanded the removal of CONCACAF's referee selection panel after describing the officiating in the loss as "insulting and embarrassing." The statement also accused the match officials of favoring Mexico in a "vulgar and shameless way."
Two Panama players —Tejada and goalkeeper Jaime Penedo — were both suspended two games by CONCACAF on Friday. Penedo was disciplined for pushing the assistant referee after Wednesday's match. Along with the red card, Tejada was punished additionally for not leaving the field in a "timely manner."
The federation also was fined an undisclosed amount for "team misconduct both on and off the field."