Redskins TE Logan Paulsen will continue to play a big role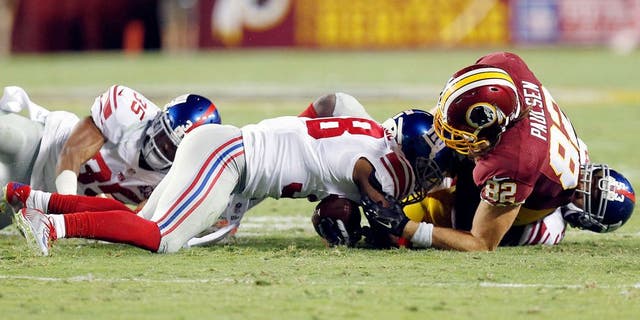 NEWYou can now listen to Fox News articles!
When you think about the Washington Redskins' tight end situation, it's easy to see how Logan Paulsen can get lost. Teammates Jordan Reed and Niles Paul are flashier, faster and they show up in the box score more often.
Having said that, Paulsen might be the tight end who ends up playing the most snaps of all three. In 2014, he finished just 178 snaps behind Paul and 30 snaps ahead of the oft-injured Reed. With the Redskins moving toward a more run-first offense following the addition of offensive line guru Bill Callahan, Paulsen could see an uptick in snaps.
Over his five seasons with the Redskins, Paulsen has established himself as a true blocking tight end. He used the offseason to enter 2015 as a complete two-way tight end.
"I tried to improve in every aspect of my game, as a physical run-blocker and as a pass catcher," Paulsen said, per Redskins.com. "I think I've just grown as a football player, in developing my overall football IQ and my athleticism.
"I think with the way the league's going right now, a lot of guys say, 'I want to be a playmaker in the offense. I want to have the opportunity to catch a football, score touchdowns,'" Paulsen said. "But I think there's still a role -- or I hope there's still a role -- for guys who want to do both."
Head coach Jay Gruden made it clear that Paulsen will continue to see a lot of snaps, especially with the new offensive philosophy that the Redskins hope to use in 2015.
"Logan [Paulsen] has done some good things, he's one of those guys that is going to do exactly what you want," Gruden said during organized team activities in June, per Redskins.com. "People always say, 'Hey, you guys have got to run the ball, run the ball,' but you have got to have a tight end that can block, not only at the point of attack but the backside and Logan right now is our best blocker. It's good to have him for sure."
(h/t Redskins Blog)
Photo Credit: Geoff Burke/USA TODAY Sports