Redskins QB Kirk Cousins sharp in his preseason debut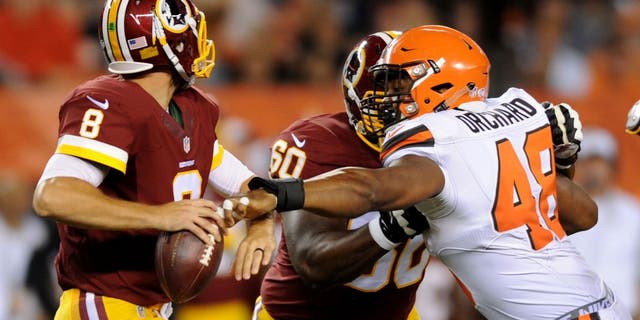 When the Washington Redskins opened up the preseason against the Cleveland Browns on Thursday night, backup quarterback Kirk Cousins was ready to put his starting run in 2014 behind him.
Cousins was playing down several wide receivers and tight ends, but he came out firing and looked sharp throughout his preseason debut. Cousins completed his first nine pass attempts on his way to completing 12-of-14 pass attempts for 154 yards passing on the night. He also took one sack.
Cousins didn't throw any touchdown passes, but he ran one in from four yards out for the Redskins' first touchdown of the game on Cousins' first drive. Cousins finished with four series on the night, and three of them ended in a score, including two touchdown drives. The only drive that didn't end in a score was cut off short after a Silas Redd fumble.
Cousins averaged a healthy 11-yards per attempt. He hooked up with wide receiver Andre Roberts on gains of 28, 19 and 15 yards. He also connected on three more completions for 15 yards or more.
Cousins made a strong case to stick as the Redskins' No. 2 quarterback over Colt McCoy. He will need to build on his strong debut over the next couple of preseason games to cement his role heading into the regular season.