Red Sox use 8-run inning to top Tepesch, Twins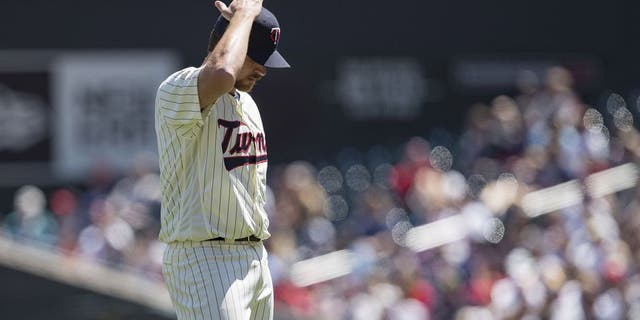 MINNEAPOLIS -- Rick Porcello pitched seven sharp innings and got some rare run support to win his first start since opening day, and Chris Young homered twice to lead the Boston Red Sox over the Minnesota Twins 11-1 on Saturday.
After equaling last season's loss total in less than a month, the reigning AL Cy Young Award winner finally got to pitch with a lead again when Boston took advantage of a costly Minnesota error and scored eight two-out runs in the second. Porcello (2-4) cruised the rest of the way, allowing only Robbie Grossman's homer in the third.
Nick Tepesch (0-1) gave up seven runs -- six unearned -- in his first major league appearance since last June, and his second since the 2014 season.
After Young's solo shot in the second, Tepesch was one out from escaping with a runner on when shortstop Jorge Polanco bobbled Josh Rutledge's routine grounder. Mookie Betts walked to load the bases for Dustin Pedroia, who followed with a three-run double to left-center, and the Red Sox were well on their way to their most lopsided win of the season. Drew Rucinski relieved Tepesch and yielded an RBI single to Hanley Ramirez and a run-scoring double to Mitch Moreland.
The Red Sox entered with the third-fewest RBIs in the American League, and hadn't scored a single run with Porcello on the mound in his last four starts.
The right-hander gave up seven hits, struck out six and walked none.
Young added another solo shot in the fifth off Rucinski, and Rutledge drove in Deven Marrero with a single in the seventh.
Sandy Leon homered in the ninth off Michael Tonkin, and catcher Chris Gimenez came on to get the final two outs of the inning for Minnesota. It was Gimenez's second pitching appearance this season.
TRAINER'S ROOM
Red Sox: LHP David Price could rejoin the rotation by the end of May provided he continues to feel good in his recovery from a strained left elbow. Boston manager John Farrell said Price's next simulated session scheduled for Tuesday could be his last. "At that point, provided he continues to feel as he's doing, we look at a game after that," Farrell said. . Farrell said OF Brock Holt (vertigo) was scheduled to be the DH for Triple-A Pawtucket, weather permitting.
Twins: 2B Brian Dozier sat out after spraining his left ankle Friday night. Minnesota manager Paul Molitor said Dozier was day to day and didn't expect him to play in Sunday's series finale. "We'll see how the next couple days unfold and see if he can be ready after the off day," Molitor said. Molitor also said CF Byron Buxton was doing better and would take some swings after running into the outfield wall on Thursday. Buxton sat out Friday and didn't participate in any baseball activities but watched the game from the dugout.
UP NEXT
Red Sox: LHP Chris Sale (2-2) takes the mound for the first time since learning he won't be suspended for throwing behind Baltimore's Manny Machado on Tuesday night. Sale has pitched seven-plus innings with two or fewer earned runs allowed in six consecutive starts.
Twins: RHP Ervin Santana (5-0) carries a 0.66 ERA into his seventh start of the season. He'll face Boston for the first time since May 26, 2014, when he allowed six runs in five innings.