Red Sox scraps David Ortiz bobblehead after determining it was 'racially insensitive'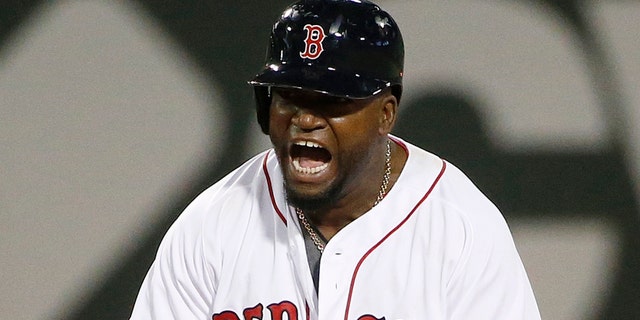 NEWYou can now listen to Fox News articles!
A David Ortiz bobblehead that was supposed to be a gift to fans was pulled from the shelves hours before the Boston Red Sox's game against the New York Yankees on Tuesday night after it was deemed "racially insensitive."
The bobblehead depicts the retiring slugger hold a microphone and addressing fans at Fenway Park following the Boston Marathon bombings in 2013. However, team officials found that the figurines did not appropriately resemble Ortiz and pulled it from distribution.
"It was an inaccurate portrayal of David. It doesn't really look like David," team president Sam Kennedy said, according to the Boston Globe. "No. 2, I personally thought it seemed to be an offensive portrayal of him and the facial features were racially insensitive."
He said he's certain others would have felt the same way.
"If I was feeling this way, certainly other people would," he said. "So we pulled the plug."
The giveaway was supposed to be for the first 15,000 fans who arrived at the stadium. To make up for the inconvenience, any fan holding a ticket to the game will be able to get a new Ortiz bobblehead once they are reproduced.
"Everybody will receive one," Kennedy said.
The rejected bobblehead was made by BDA, Inc., and the company will also produce the replacements.
"We value our decades-long relationship with the Red Sox organization and its decision to postpone Tuesday's David Ortiz bobblehead giveaway," BDA said in a statement. "We're currently working closely with the Red Sox to ensure the team and its fans receive a quality product."
The company's other clients include the National Football League, Major League Soccer and the PGA Tour.
Ortiz said he was unaware of the situation ahead of the game, but agreed with the team's decision after looking at a photo of the bobblehead.
"That's supposed to be me?" he told the Globe with a laugh.
The Red Sox sent out a statement and apology via their website and social media several hours before a 5-3 win over the Yankees.
Red Sox fan Jason Bolduc said he was disappointed not to receive the bobblehead, but understood the team's decision.
"I'm glad we're going to get one later. It's good they did that," he added.
Tuesday's game also marked one of the last times that Yankees' slugger Alex Rodriguez would play at Fenway Park. He announced earlier this week that he would play his last MLB game on Friday.
Like us on Facebook
Follow us on Twitter & Instagram