Red Sox analyst says Japanese Yankees pitcher should 'learn baseball language'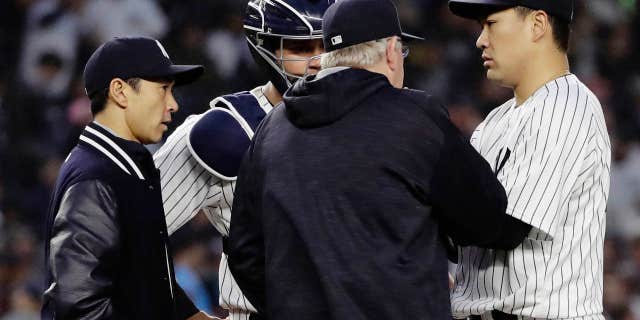 A longtime Boston Red Sox analyst faced criticism Tuesday after comments he made about the use of translators during visits to the pitcher's mound, saying players should learn "baseball language."
Jerry Remy, who has been a broadcaster for the Red Sox since 1988 and played as a Boston infielder, made the comments when the Yankees pitching coach-- along with a translator-- visited New York Yankees ace Masahiro Tanaka.
"I don't think that should be legal," Remy told his NESN play-by-play man Dave O'Brien. "I really don't. Learn baseball language. You know, learn, it's pretty simple. You break it down pretty easy between pitching coach and pitcher after a long period of time."
O'Brien answered: "I would say that probably, you know, they're concerned about nuance being lost in some of these conversations."
After Boston defeated the Yankees, 5-4, in Yankee Stadium, Remy reportedly left the broadcast booth and told reporters that he had no comment on the subject.
Remy drew criticism on social media with some saying there is no universal language for baseball.
In 2013, Major League Baseball adopted a rule that permitted interpreters to join mound conferences. Having a personal translator is also part of Tanaka's seven-year, $155 million contract, according to NBC Sports.
Remy's comments came the same day Phillies Hall of Fame third baseman Mike Schmidt said Philadelphia outfielder Odubel Herrera's language barrier "would make it difficult" for him to be a team leader. Schmidt apologized for his comments later Tuesday.
Herrera is from Venezuela and conducts his interviews with English-speaking media in Spanish, through a translator.
The Associated Press contributed to this report.