Reciting poetry gets Jets QBs psyched before each game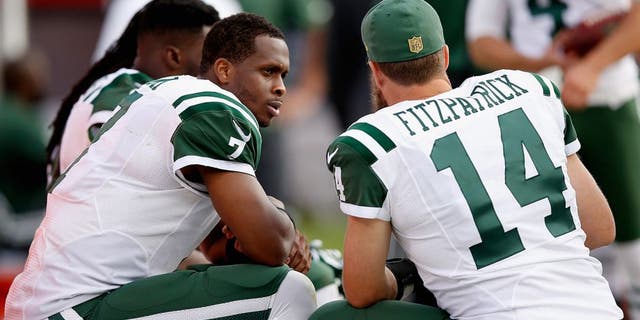 Rhyme time comes before game time for the Jets' quarterbacks. Ezra Shaw Getty Images
Players have different ways of preparing for games each week. Some listen to up-tempo music to get their blood flowing, others eat a very specific pre-game meal before they take the field.
And then there are the New York Jets' quarterbacks.
In what's certainly the league's most bizarre pre-game routines, the Jets' signal callers huddle up in the tunnel to recite poetry. No, not poetry written by Shakespeare or Robert Frost. Poetry that they've written themselves.
"It's just a few goofy lines," Ryan Fitzpatrick said via Rich Cimini of ESPN. "Usually, you'll include where we're playing or the quarterback we're playing against, something goofy. It's a fun thing to do before the game to keep it loose."
With the Buffalo Bills coming to town this week, Bryce Petty -- the designated poet for Thursday's game -- will surely have a boatload of content for this game. Rex Ryan is returning to the Meadowlands, as is IK Enemkpali, who's been named a captain for the Bills. It's safe to say both names will be featured in Petty's poem, but it's also surprising Geno Smith wasn't tapped for this week.
Petty has had the responsibility of reciting a poem for his fellow quarterbacks before, so he knows the ropes. But with Fitzpatrick in the huddle, it's hard to top the Harvard grad's rhymes.
"He put out one of the best ones we had all year," Petty said. "It was sweet, almost like a rap. He's so witty. It takes me 20 minutes to think of something that rhymes and he can do it on the spot.
"It's funny because it gets us loose and it gets us laughing. It gets us psyched up for the game."
Fitzpatrick is the originator of the tradition for the Jets, saying he took it from his days with the Cincinnati Bengals in 2007. It sounds like it's brought the group together, and with Fitzpatrick playing well, there's no reason to break the trend.