Real Madrid, Atlético Madrid prepare for rematch of last year's Champions League final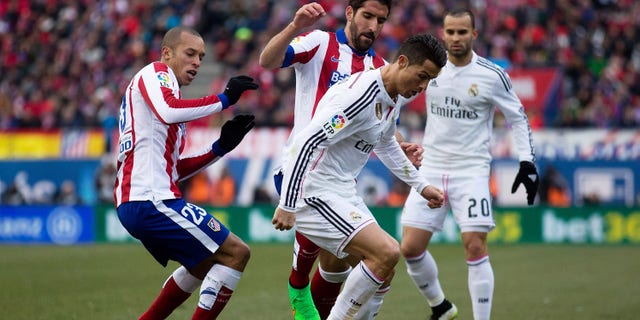 A new "clasico" is brewing between Champions League defending champ Real Madrid and last year's runner-up Atlético Madrid.
On Tuesday, the city rivals meet again in the first leg of their Champions League quarterfinal at Vicente Calderón stadium, and both teams are expecting a fight.
"I expect something very similar to what we've experienced throughout this campaign, and the last two years," said Sergio Ramos, second captain and defender for Real Madrid in an interview published on the official UEFA website. "They're a very competitive, very hard-working team, who know how to compete and how to be strong together."
"Ultimately that's what's allowed Atlético Madrid to make a leap forward. We're going to try to perform to the best of our ability, to be effective in front of goal, to make the most of our chances and to make as few mistakes as possible, because the margin of error in matches like this is minimal," he added.
Atlético manager Diego Simeone said on Monday that although there are two legs, winning is always the preferred result against their city rivals.
"If there is a tie, there will be a new match on the following Wednesday to solve the qualifying round," he said in a press conference, according to the club's official website.
When asked if he would have preferred to face a different team in this stage of the competition, the Argentinian tactician added that choosing rivals is not even an option and that he does not think about previous games when preparing for the next.
"I foresee a similar game to the one we played two years ago in their stadium [during the Copa del Rey final]," he said. "They played with great intensity, and I imagine it will be very similar [on Tuesday]."
Real Madrid's left back Marcelo told the press that the timing of the match "comes at a good time" for the Merengues.
"We're more confident, and we're in better shape than in recent months. The match comes at a good time; we're in good shape and we're confident," the Brazilian said, according to the club's website. "We have to give everything out on the pitch and fight to the last [minute]."
Based on reporting by EFE.