Ray Evernham: 3 reasons why Jeff Gordon has been so wildly successful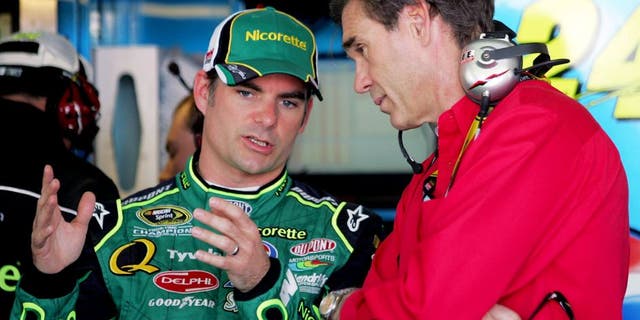 Few people know Jeff Gordon as well as Ray Evernham, the man who served as crew chief of the No. 24 Hendrick Motorsports Chevrolet for three of Gordon's four NASCAR Sprint Cup Series championships.
In an exclusive interview with FOXSports.com earlier this year, Evernham revealed three key reasons why Gordon has won 93 Cup races, 81 poles and four series titles.
1. WILL TO WIN. "I don't honestly know what the fans don't know about him," Evernham said of Gordon, "but I think they would be surprised at how truly competitive he is. That's whether he's playing with his kids or he's racing poor old Ray Evernham on a go-kart."
Evernham laughed as he talked.
"He truly, truly -- I don't care if it's for a million dollars or for one dollar -- it's the winning and losing that has always driven him. The million-dollar wins, I'm sure he's happy about those. But he will race you just as hard in a go-kart as he will when he goes to the Daytona 500, and that's just part of his makeup. That's to me what makes the great ones. It's not about money with him; it's about winning and losing."
2. NATURAL ABILITY. Evernham said he and Gordon were once talking with a doctor about innate physical talents -- eyesight, eye-hand coordination and reaction times, among others. These are all areas were Gordon excels.
"Some people are just biologically better than others. It's as simple as that, right?" said Evernham. "They can process information faster, they can do things faster. They have faster reflexes. That's a proven biological fact."
3. EARLY ADAPTER. Gordon was just five years old when he began racing quarter-midgets under the direction of his stepfather, John Bickford. From an early age, Gordon raced and raced, logging seat team and getting invaluable experience. Bickford also trained Gordon to be media savvy. During his teen years, Gordon would spend hours watching NASCAR Victory Lane interviews with Bickford pointing out the do's and don'ts of public speaking.
According to Evernham, the experience helped Gordon develop his "racing IQ." And that set Gordon apart from the competition at a young age.
"Jeff is very, very smart," said Evernham. "And that's from running a gazillion laps from the time he was five years old. He was always way more experienced than his age, and the fact that he's so frigging competitive. He hates to lose."