Ranking and grading every team's 2016 NFL Draft class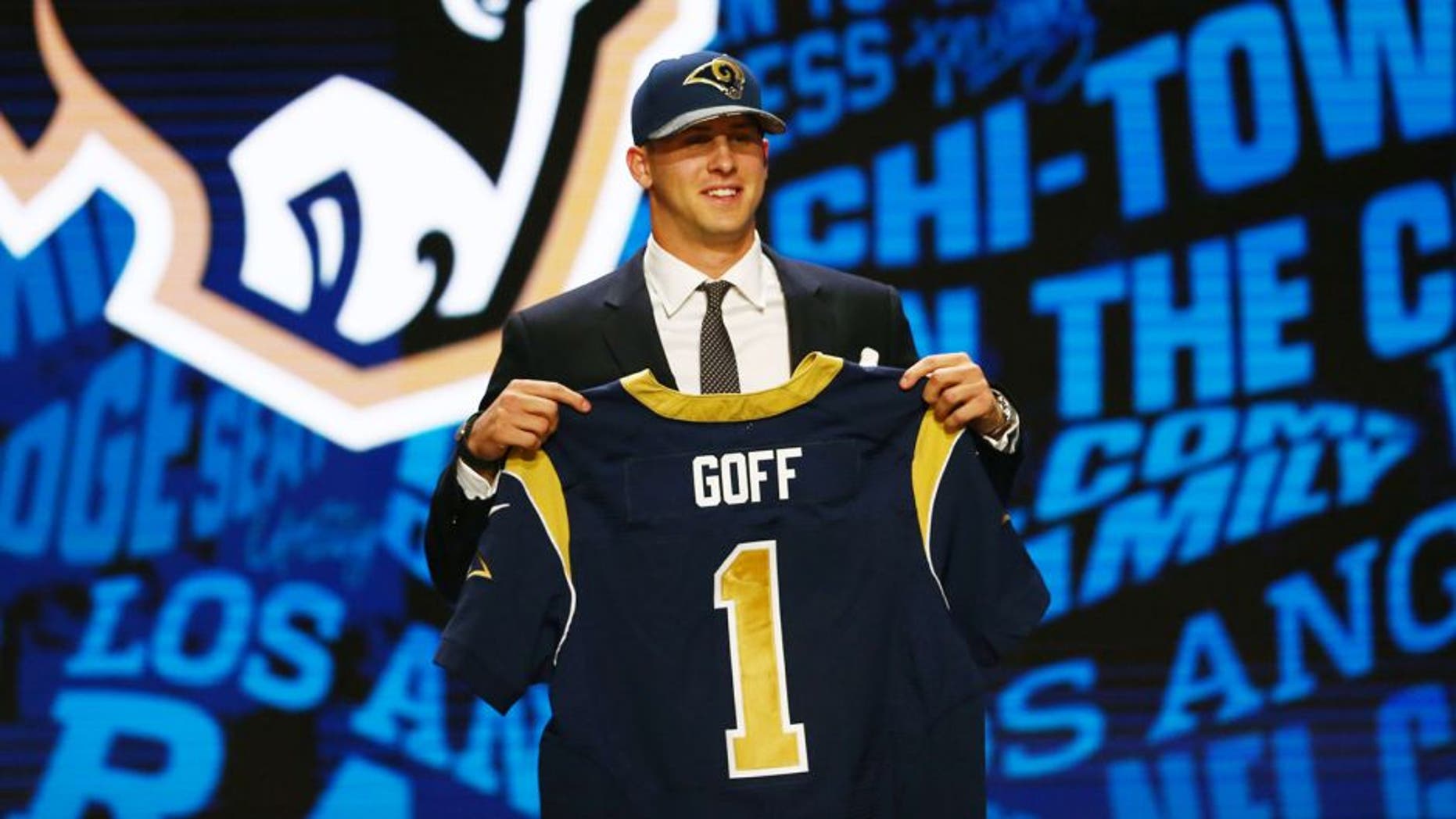 People scoff at draft grades, especially just days after the players are picked. I admit they're a rather futile exercise, considering all the variables at play. Players get injured, coaches get fired, and front offices can go down with the ship. But we're in a current football climate where fans like them. So we do them. Take them for what they're worth.
I do a seven-round mock draft. I am at the Senior Bowl, the Combine, Pro Days, and treat this stuff as seriously as anyone in the media without real personnel control could. I have no years in a front office and no real aspirations to build a franchise. But I do draft grades.
Here they are, with an added twist -- we've ranked all the drafts from 1 to 32.
Maybe my favorite draft class in recent memory. The Titans, knowing they already had a quarterback of the future in their back pocket, leveraged the first overall pick for a haul of others, and then worked back into the top 10 to get a right tackle that they believe can be a starter for the next decade in Jack Conklin. Kevin Dodd dominated the national championship game and had a huge 2015. I like him in the second round, love Austin Johnson in Tennessee's 3-4 base, and thought both Derrick Henry and Kevin Byard fit what Tennessee is building and can make a difference right away. GM Jon Robinson looks like a draft mastermind, and with the haul they got from Los Angeles paying off the next two years, the best could still be yet to come.
Best value pick: Derrick Henry, RB, Alabama, 45th overall
The Rams wanted a franchise quarterback to start the organization's re-invigoration in Los Angeles and did whatever was needed to go get him. They were sitting at the 15 spot in this year's draft, wanted Jared Goff, knew they'd need to give a lot up to get him, and then just went for it. I love that. Five years from now, the football gods will tell us if they went for the right quarterback or not, or if they gave up too much, but in the present, how do you not appreciate a team laying it on the table and just saying, "Let's go for it"? I don't know how you can rant and rave and praise the selection of backup cornerbacks and guards in the second and third round -- guys the Rams couldn't take because of trading picks -- until we see what Jared Goff becomes. GM Les Snead has built a wonderful young team in Los Angeles, minus one position. The quarterback. So, they just put their franchise and many of their legacies on the right arm of the kid they wanted. In a league where everyone's trying to get better and emerge from the dreaded world of 7-9 and 8-8, the Rams took a big swing to someday get to 10-6 or 12-4. For that alone, it's an A.
Best value pick: None
The Bills didn't resemble a Rex Ryan team on defense last year, and if you're going to employ Rex (and brother Rob), you might as well give the defense some thumpers up front. Shaq Lawson -- if his shoulder checks out -- can be the top pass rusher in this class, while Reggie Ragland is the perfect inside linebacker for a Ryan brother defense. I liked the selection of big boy Adolphus Washington up front, and can already envision Cardale Jones getting on the field at some point in 2016. I liked the value and the needs fulfilled with the first four picks in this draft, and think Kolby Listenbee, a late-round flyer, could be a decent threat in the deep game.
Best value pick: Reggie Ragland, ILB, Alabama, 41st overall
Similar to how I feel about the Rams, I love the Eagles going up and making the moves necessary to get their guy at No. 2. You can't win in this league without a quarterback, and if the Eagles view Carson Wentz as that kind of quarterback, they weren't getting him at 13 or 8. As Sam Bradford doesn't show up to voluntary minicamp and sends messages through his agent, Carson Wentz now comes to Philadelphia, ready to compete and be the best player he can be. I also loved Chase Daniel welcoming him with open arms. It's as if Bradford is being told, "Hey bud, we're good here. Are you in or are you out?" And with a quarterbacks room that'll include Doug Pederson, Frank Reich, and John DeFilippo, it's hard not to feel good about a young, whip-smart quarterback's chances for success. I liked the aggressiveness of GM Howie Roseman here, but also liked some of the Day 3 picks, including Halapoulivaati Vaitai, Jalen Mills, and local product Wendell Smallwood.
Best value pick: Halapoulivaati Vaitai, OT, TCU, 164th overall
I'd feel less comfortable with other teams taking Robert Nkemdiche in the first round, but the Cardinals are a different beast. There's an infrastructure in place, and the people in the building -- from owner Michael Bidwill to GM Steve Keim to head coach Bruce Arians -- are strong enough to handle any potential off-field pitfalls the young man may come across. Tyrann Mathieu is the blueprint. Now Nkemdiche -- whom I had listed as my No. 1 prospect in this draft before the college season started -- just needs to execute. I'm including Chandler Jones -- traded to Arizona in a package that included the Cardinals' second-round pick -- as a part of this draft class and think he'll be an absolute superstar next season. I also think Evan Boehm, a stout center/guard out of Missouri, can contribute right away.
Best value pick: Evan Boehm, C/G, Missouri, 128th overall
Value, value, value. Hats off to Duke Tobin, Marvin Lewis, and the rest of the Bengals' decision makers on this one. Cincinnati stayed true to its board and with seemingly every pick and took guys who produced in the college game. The first-round selection of William Jackson III was not one for need, and it stung their division-rival Steelers, who had the pick right after. Tyler Boyd could be a good complement to A.J. Green; he isn't a burner, but is a tough, smart route runner. Andrew Billings was a disruptive force who I saw as a second-round pick. Cincinnati got him in the fourth, and offensive guard Christian Westerman is a big body who could have gone on Day 2. Offensive line coach Paul Alexander will get the very most of him.
Best value pick: Christian Westerman, OG, Arizona State, 161st overall
The rich got richer this weekend. Seattle traded back in the first round and still got an offensive tackle they coveted in Germain Ifedi at 31st overall, got big man Jarran Reed -- a top-20 talent -- €"in the second round, and two talented offensive players who can make real impacts next year in Nick Vannett and C.J. Prosise in the third round. I see Prosise as a Reggie Bush/Percy Harvin clone. He played wide receiver in college, moved to running back, and did it all in the special teams game. I also like the value they got in Tyvis Powell, an undrafted free agent, who is a tall, rangy safety that left Ohio State early. Perfect fit for the Legion Of Boom.
Best value pick: C.J. Prosise, RB, Notre Dame, 90th overall
I loved the 49ers' draft, despite a complete lack of flash and/or sizzle. San Francisco needed to get tough and big up front on both sides of the ball and address their defensive backfield. They did that with DeForest Buckner, my top-rated defensive player; Joshua Garnett, arguably the best run-blocking guard in this class; and they got Ronald Blair,€" a big bull out of Appalachian State -- in the fifth round. They also hit that cornerback need with three guys loaded with potential in Will Redmond, Rashard Robinson, and Prince Charles Iworah. I would have liked to have seen them take Connor Cook in the third round, but they waited and got Jeff Driskel in the sixth. A few years back, the young man was the highest-rated high school quarterback in the country. Maybe Chip Kelly can help him fulfill that potential.
Best value pick: DeForest Buckner, DE, Oregon, seventh overall
Round by round, Denver nailed its picks. If everyone was as hot as it sounds for Paxton Lynch late in the first round, Denver did what it had to do to land its guy. Again, I have the ultimate respect for the teams that make moves to get quarterbacks. I do not believe you can win without one. I also am a big fan of Adam Gotsis, the big Australian defensive tackle, and can see him learning from Derek Wolfe. Justin Simmons and Devontae Booker will have roles in 2016, and Connor McGovern is one of those weight-room freaks who can set the tone if given the chance to polish his skills. This draft will depend on Lynch and his development. I have high hopes.
Best value pick: Devontae Booker, RB, Utah, 136th overall
The Colts' offensive line was at least somewhat at fault for the shellacking Andrew Luck took last year. After that, Matt Hasselbeck got clobbered, too. To his credit, Ryan Grigson addressed the offensive line and then some over the weekend. I loved the Ryan Kelly pick, making he and Andrew Luck the only quarterback/center combo that has two masters degrees. I also am high on big boy Le'Raven Clark out of Texas Tech and Joe Haeg, the road paver out of North Dakota State. That's three for three on the offensive line, and for that, I tip my cap.
Best value pick: Le'Raven Clark, OT, Texas Tech, 82nd overall
Bears GM Ryan Pace was aggressive on Thursday night, leapfrogging the Giants and getting the player Chicago wanted in Leonard Floyd. That aggressiveness satisfied their need for a pass rusher. Then, Chicago built from the inside out, beefing up both lines by adding Cody Whitehair, Jonathan Bullard, and Nick Kwiatkoski -- €"three guys who can all start next year on Vic Fangio's defense. They also got an elusive back to join Kendall Langford in Jordan Howard late on Day 3. Pace and college scouting director Joe Douglas did the work on this one, identifying players that not only fulfill needs but could be seen as the best players on the board.
Best value pick: Jordan Howard, RB, Indiana, 150th overall
The Packers drafted players that I think both addressed glaring needs and who can get on the field next year. Kenny Clark is a nifty defensive tackle who I watched singlehandedly dominate Arizona for a stretch of a game last season. He could be a steal at 27th overall. I am a big fan of Jason Spriggs, the most athletic offensive tackle in the entire draft. Kyler Fackrell and Blake Martinez were both super productive players in college and can help you in special teams, too. The Packers also added Dean Lowry, a guy built for Dom Capers' 3-4 front, late in the draft. Green Bay avoided signing many free agents (again), but loaded up with big boys in the draft. I dug it.
Best value pick: Dean Lowry, DE, Northwestern, 137th overall
If draft grades in May were Lombardi Trophies, the Jaguars would have an auditorium full of them. The media has drooled over some of the classes Jacksonville has had in recent years, but I honestly think this might be the best haul yet. Both Jalen Ramsey and Myles Jack could be superstars, while Yannick Ngakoue could be a beast off the edge. With all they added in the preseason, it's been a heck of an offseason for GM Dave Caldwell. Now, the team just needs to deliver. Sadly, I feel like that's becoming a broken record.
Best value pick: Myles Jack, OLB, UCLA, 36th overall
The Ravens got a four-star talent at left tackle in Ronnie Stanley, then loaded up on a pair of pass rushers they ranked highly in Kamalei Correa and Bronson Kaufusi. The former fits the Ravens' 3-4 scheme as an outside guy and the latter is a 6-foot-6 big body who can put his hand in the dirt on the defensive line. My favorite two picks were on Day 3, with Kenneth Dixon and Matt Judon both being big-swing selections. With a need at wide receiver, I would have liked to have seen them take more than one true receiver (Chris Moore) with their 11 picks.
Best value pick: Kenneth Dixon, RB, Louisiana Tech, 134th overall
Tough to poke too many holes in Carolina's draft, but also no great flash either. They had Vernon Butler rated as one of the top defensive tackles in the draft and got him at 30th overall, took a small-school cornerback they liked in James Bradberry (that strategy worked with Josh Norman), and scooped up two others in Daryl Worley and Zack Sanchez on Day 3. I had Sanchez rated as a Day 2 pick, so that's a steal. I would have liked to have seen a wide receiver or two tossed in here at some point, but that's never been Carolina's style.
Best value pick: Zach Sanchez, CB, Oklahoma, 141st overall
I'm a huge Karl Joseph guy, so when the Raiders took him 14th overall, I didn't flinch. Safety was their biggest need and they addressed it with my favorite in this draft. Joseph has the swagger and skill to be a tone setter, and learning from Reggie Nelson isn't the worst thing in the world. I love Shilique Calhoun in the third round and view Connor Cook as the fourth quarterback in the draft, regardless of how far he fell. DeAndre Washington may be the biggest sleeper of all, as he is a lightning rod and a Darren Sproles clone on third down.
Best value pick: Connor Cook, QB, Michigan State, 100th overall
Tom Telesco would give Phil Hellmuth a run for his money at the poker table. He kept that Joey Bosa pick pretty close to the vest, and then went and got a heck of a tight end prospect in Hunter Henry in the second round. Joshua Perry and Jatavis Brown can both be guys who play roles in John Pagano's defense next year, and Derek Watt comes from some decent bloodlines.
Best value pick: Joshua Perry, ILB, Ohio State, 102nd overall
Josh Doctson was the top-ranked wide receiver on my board, and I actually think he'll make the biggest impact in 2016 out of any of the Day 1 receivers taken. Offensive coordinator Sean McVay is a mastermind in getting the most out of his tight ends and wideouts, and pairing Doctson with DeSean Jackson, alongside Jordan Reed, Pierre Garcon, Vernon Davis, and Jamison Crowder is something worth getting exciting about. The Redskins also took two players who were producers in college in Su'a Cravens and Kendall Fuller (coming off an injury) on Day 2. I would have liked another big body or two added on either side of the line, but I feel good about what Washington got done.
Best value pick: Josh Doctson, WR, TCU, 22nd overall
The Buccaneers got the guy they would have taken at ninth overall at 11th overall (Vernon Hargreaves III), and then used the extra pick they scooped up in that deal to trade up and get the kicker they viewed as the greatest to ever play the college game, Robert Aguayo, midway through Day 2. That move will be picked apart and analyzed to death, but I liked it. They wanted a player, so they got him. Like I love the Rams and Eagles trading up for a quarterback, I appreciate this aggressiveness as well. I do wish the Buccaneers picked up more pass-rushing talent, though. If he continues to keep his nose out of trouble, Noah Spence could be a great one. But that's the only rusher they picked.
Best value pick: Noah Spence, DE/OLB, Eastern Kentucky, 39th overall
I loved the Ezekiel Elliott pick at No. 4 overall. If the Cowboys feel the window is open right now for a Super Bowl run and they're playing to their strength in the ground game, I am fully behind going and getting the top running back in the draft. The Cowboys have made it known that they wanted to trade up and get Paxton Lynch late in the first round. If that was the case, they should have. The dropoff from Lynch to Dak Prescott -- €"the guy they eventually selected on Day 3 -- is pretty large. I still am not sure Dallas has its future franchise quarterback. If anyone knows Jaylon Smith's knee situation, it's Dr. Daniel Cooper, the doctor who performed the surgery, and also the Cowboys' team physician. But was it necessary to pick Smith 34th overall? Could they have traded back and scooped up a few later-round picks? I also think Connor Cook would have looked awfully nice behind Tony Romo on the depth chart. Maliek Collins seems like a bit of a project. That selection could have been Cook.
Best value pick: Anthony Brown, CB, Purdue, 189th overall
I think Keanu Neal is the perfect type of player for what Dan Quinn is trying to do in Atlanta and fulfills a great need, as well. I know another team that had him rated above Karl Joseph as the top safety in this draft. I'm also a big fan of Deion Jones and believe Quinn can get the most out of him as the next OLB to try to be "the guy" in Atlanta. Thomas Dimitroff and his front office knew the Falcons needed to address defense across the board and did just that.
Best value pick: De'Vondre Campbell, LB, Minnesota, 115th overall
The Patriots didn't have a first-round selection because of a very harsh penalty issued from the NFL. They then traded one of their second-round picks, too. So, they did their damage in the later rounds. I love Cyrus Jones, the cornerback out of Alabama, and think he both addresses a need and was the best defensive back on the board when he was selected. Joe Thuney is a big boy who'll learn the game from the best offensive line coach in the sport, and Malcolm Mitchell can be an absolute steal if he's healthy and finds his role in the offense. The Patriots took Jacoby Brissett before Connor Cook, Cardale Jones, and Dak Prescott. And did so two years after picking Jimmy Garoppolo. Curious pick, but who am I to question Belichick and Co.?
Best value pick: Cyrus Jones, CB, Alabama, 60th overall
Laremy Tunsil fell into their laps and the Dolphins scooped him up at 13th overall. Whether Tunsil's the top tackle in the draft will be determined in future years, but getting him at 13th is a great value. What kind of dude is he? We'll see. His first 24 hours in the pros were enough for a "30 for 30." On the field, he should be able to make an impact. He can start out as a guard and move outside if needed. The Dolphins also got one of my favorite speed threats in the draft in Kenyan Drake, as well as an interesting pair of receivers with very different builds in Leonte Carroo (6-foot-1, 220 pounds) and Jakeem Grant (5-foot-6). I'm not as high on Xavien Howard as others, though, and think some youth at defensive line and linebacker would have been smart at some point. Miami neglected those spots.
Best value pick: Laremy Tunsil, OT, Ole Miss, 13th overall
The Lions had a real meat-and-potatoes kind of draft. I thought Ryan Kelly would have been the better selection than Taylor Decker at 16, and I wasn't as high on center Graham Glasgow as Detroit was, taking him in the third round. I don't think Detroit addressed its need for a pass rusher opposite of Ziggy Ansah, either. I do like A'Shawn Robinson inside and think Miles Killebrew can be a difference maker at safety.
Best value pick: Miles Killebrew, S, Southern Utah, 111th overall
The Saints are in salary cap purgatory, so every draft really matters for them. They got a guy I love in the first round in Sheldon Rankins. A high-motor, high-producer who dominated Senior Bowl practices all week. He will do things on Day 1. The two Ohio State kids -- Michael Thomas and Vonn Bell -- fulfill needs, too. Those three picks were solid, and I like the big swing at Manitoba's big boy, David Oynemata, in the fourth round. No quarterback, though? Drew Brees is set to make $30 million next year. They must like Garrett Grayson a lot more than we thought.
Best value pick: Vonn Bell, S, Ohio State, 61st overall
Darron Lee was one of my favorite players in this draft, and though I was told he could go anywhere from 15-25, I was a bit surprised some of the teams in that 15-19 range passed on him. So the Jets get the Lavonte David clone and a guy who'll work perfectly in Todd Bowles' scheme. I am not a Christian Hackenberg guy, but I'm the same guy who didn't love Russell Wilson and Blake Bortles coming out of college. So what do I know? With Muhammad Wilkerson's contract situation a bit murky and D'Brickashaw Ferguson no longer there, I would have liked to have seen a few more offensive and defensive line talents taken. Brandon Shell is a project.
Best value pick: Juston Burris, CB, North Carolina State, 118th overall
Will Fuller is a speed burner who'll work well as a complement to DeAndre Hopkins, but he needs to address his drops. He reminds me of Ted Ginn a bit. Nick Martin is a tough guy up front and Braxton Miller needs some refining. Four offensive players with the first four picks? I wanted to see a safety taken somewhere before the fifth round, as I don't think Quintin Demps is a legitimate NFL starter. Another defensive end who could get to the passer is something I'd have liked, too. The jury is still out on if and when Jadeveon Clowney is ever going to fully reach his potential.
Best value pick: Tyler Ervin, RB, San Jose State, 119th overall
I'm a fan of Carson Wentz and think he's going to be a better quarterback than Robert Griffin III or Cody Kessler, so no matter what, the Browns trading down out of the two spot was going to impact this draft grade. Hue Jackson is as good as any individual in the league in getting the most out of wide receivers, so I have high hopes for Corey Coleman. But who's throwing him the ball? Kessler felt like a reach in the third round, and taking a tight end out of Princeton who missed a lot of time in the last two years with injuries seemed like an odd choice. The Browns loaded up on picks, but I'm not sure any outside of Coleman, Emmanuel Ogbah, and burner Ricardo Louis can make big splashes in Year 1. That said, they built up their roster and laid the groundwork for future drafts. They've just got to hope Carson Wentz isn't what the folks in Philadelphia think he can be.
Best value pick: Ricardo Louis, WR, Auburn, 114th overall
I didn't love the Steelers' draft because I think they were just one pick away from getting the guy they really wanted in William Jackson III in the first round. When Eli Apple, Vernon Hargeaves III, Karl Joseph, Keanu Neal, and Jackson were all scooped up in the first 24 picks, the Steelers were on the clock, stayed put, and took Artie Burns -- a guy I know other teams viewed as a Day 2 prospect -- €"at 25th overall. Sean Davis, their second-round cornerback, may have been a reach, too. If any coaching staff can get the most out of them it's one that includes Mike Tomlin and Carnell Lake, but man, I wish they landed T.J. Green or Mackensie Alexander -- €"guys taken right before Davis -- €"in the second round. Javon Hargrave, the big DT out of South Carolina State, is a long-term project. Lastly, with Landry Jones hitting free agency next year, I would have liked to have seen a reliable young backup quarterback taken in the third or fourth. That's a lot of wanting and whining, especially at a front office that has done an awfully nice job the last decade.
Best value pick: Travis Feeney, OLB, Washington, 220th overall
By trading out of the first round, the Chiefs didn't really get a big splash player and drafted guys in rounds three and four that I didn't have pegged as third- or fourth-round picks. Is KeiVarae Russell, the team's second-round selection, a corner or a safety? We'll see how Bob Sutton uses him. With Justin Houston out with an injury, I would have liked to have seen an outside pass rusher that can make a difference next year selected at some point. Dadi Nicolas, a sixth-round pick, is a long-term project, but maybe my favorite pick of their draft. Tyreek Hill, the former Auburn player, comes with a ton of baggage and an ugly off-the-field situation. Did the front office fully vet?
Best value pick: Dadi Nicolas, DE, Virginia Tech, 203rd overall
I'm not nearly as high on Laquon Treadwell as others and actually think the Vikings were probably a little frustrated to see the run on receivers right before them in the draft. Treadwell could work well alongside Stefon Diggs, but I'm not sure he was worthy of the 23rd overall pick when there may have been some value had the team looked to trade back a few slots. I'm also not as high on Mackensie Alexander, the second-round cornerback who didn't record a single interception during his college career. Moritz Boehringer, the German project, was a cute story. But is he helping you get over the hump next year? Then again, if any coach can get the most of his players, it's Mike Zimmer.
Best value pick: Kentrell Brothers, ILB, Missouri, 160th overall
I loved, loved, loved what the Giants did in free agency this year. Their offseason, overall, is an A. But I didn't love their draft. Where are the big boys? Where's the beef? Eli Apple could be a really good player, but was cornerback the team's biggest need at 10th overall? If Jack Conklin and Leonard Floyd were, indeed, the guys at the top of New York's board, New York could have possibly maneuvered a bit to either make that happen or get Apple later on. I had a scout tell me on Friday that Boise State safety Darian Thompson is a "good player but struggles in tackling." That seems like a problem. I am not as soaring high on Sterling Shepard as everyone else in the world is, but that's fine. And, again, no offensive linemen? No defensive linemen? No beef anywhere in the draft? I'm being harsh, but I didn't love Big Blue's haul.
Best value pick: Paul Perkins, RB, UCLA, 149th overall