Rangers-Sabres on Versus Wednesday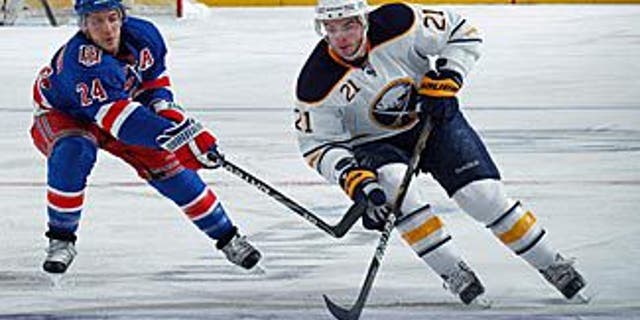 NEWYou can now listen to Fox News articles!
The Buffalo Sabres have the New York Rangers in their sights and the Carolina Hurricanes in their rear-view mirror. They'll try to get closer to the former and further from the latter Wednesday night.
The Sabres host the Rangers in one of the five games on the NHL schedule. Buffalo enters the game eighth in the Eastern Conference, two points behind the Rangers -- the Sabres missed a chance to pull even on Tuesday when they lost 4-3 in Toronto. The Rangers have been off since Saturday's 1-0 win at Boston.
Versus will air the game in the United States, beginning at 7 p.m. ET.
Also beginning at 7 is a game both the Rangers and Sabres will be interested in: Carolina, three points behind Buffalo and five behind the Rangers, goes for its second win in as many nights when Montreal comes to the RBC Center, a game that will be shown in Canada on TSN. The 'Canes come home after a 3-2 shootout win at Washington on Tuesday night, a game that ended about a half-hour before Montreal finished off Atlanta 3-1 at home.
Also at 7, the Islanders visit New Jersey.
Detroit, trying to clinch the Central Division title and the No. 2 seed in the West, hosts St. Louis at 7:30 p.m. ET. The Red Wings enter the night with 98 points after getting one in a 3-2 overtime loss to Chicago on Monday.
In the final game of the night, Calgary hosts Anaheim at 9:30 p.m. ET in a game that can also be seen in Canada on TSN. Anaheim is seventh with 91 points after Monday's 5-4 win against Colorado, while the Flames have been off since Saturday's 5-4 shootout win at Edmonton. They have 87 points, four behind the Ducks and three in back of eighth-place Chicago.