Rangers' Beltre, Choo receive accolades for late-season surges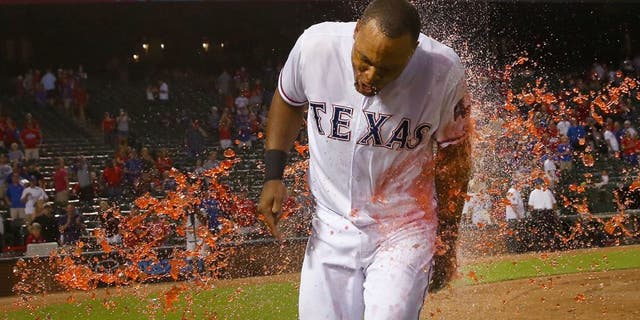 NEWYou can now listen to Fox News articles!
That the Texas Rangers were able to capture the AL West division title has a lot to do with the veterans on the club, and two of them received individual honors for their roles on Monday.
Third baseman Adrian Beltre was named the AL Player of the Week, while teammate Shin-Soo Choo's amazing September earned him Player of the Month recognition.
Beltre hit .448/.484/.793 in the season's final week with six runs and 13 hits for the Rangers, as shown in the graphic below:
Meanwhile, Choo was a driving force behind the Rangers' offensive firepower down the stretch. He hit .404 in the month with five home runs, 26 runs scored and 20 RBI. What's more, according to Stefan Stevenson of the Fort Worth Star-Telegram Choo is the first MLB player since Willie Mays way back in 1958 to lead the league in OBP, runs, hits and batting average in the month of September.
With the Rangers set to do battle with the powerful Toronto Blue Jays beginning on Thursday in the ALDS, they could use some more offensive thunder from Beltre and Choo if they want to advance on to the ALCS.