Rangers 3B Beltre leaves Game 1of ALDS with back injury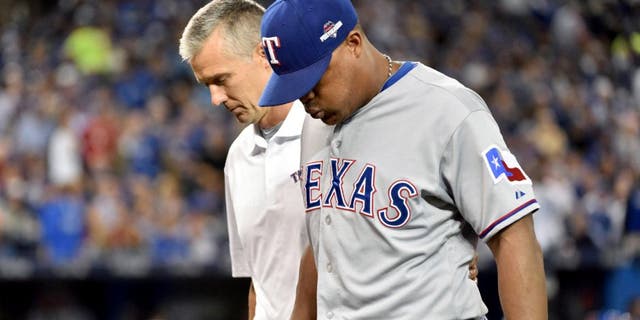 Texas Rangers third baseman Adrian Beltre left Thursday's AL Division Series opener against the Toronto Blue Jays in the third inning after suffering an apparent back injury.
RANGERS
Beltre could hardly run to first base after hitting an RBI single in the top half of the inning, and received attention from the trainer at first base.
After Prince Fielder's inning-ending groundout, Beltre tried jogging to his position at third base but came out of the game, in obvious pain. Beltre was helped off the field and into the dugout. He was replaced by Hanser Alberto.
Beltre hit .287 with 18 homers and 83 RBI this season. His two-out single in the third gave the Rangers a 2-0 lead over David Price and the Blue Jays.