Rams RB Todd Gurley: 'Couldn't ask for a better QB' than Jared Goff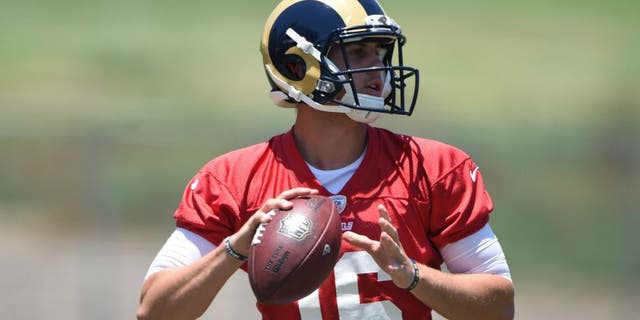 NEWYou can now listen to Fox News articles!
The Los Angeles Rams will lean heavily on their youth offensively this season. And last year's rookie standout, running back Todd Gurley, admittedly is excited about this year's big-name rookie, quarterback Jared Goff.
"Great kid. Couldn't ask for a better QB. We are just excited to have him (here)," Gurley told NFL Network. "He's definitely learning. He's getting better. Just excited to play the upcoming season with him."
That's quite a first impression.
Gurley was named the AP Offensive Rookie of the Year last season, and Goff was selected with the first overall pick in the 2016 Draft. Although nothing is official, Goff is expected to join Gurley in the starting lineup in Week 1.
In 13 games (12 starts), Gurley rushed for 1,106 yards and 10 touchdowns, and added 21 receptions for 188 yards.